GreenCore Studio Designs Modular ADUs to Address Sustainability, Affordability
Prototypes integrate water, energy, and waste management systems into an efficient, pre-fabricated kit of parts.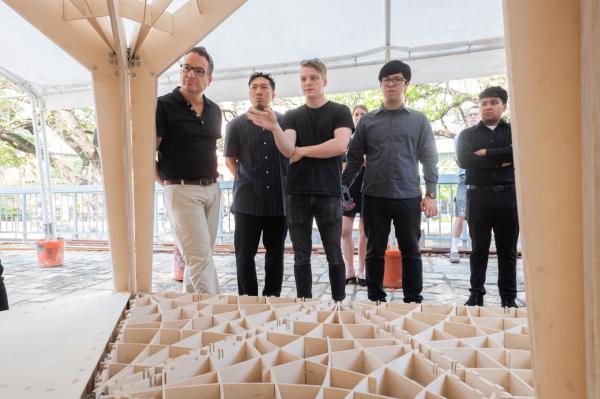 As the physical effects of climate change increasingly impact our world, there is a real need for architectural design to tackle sustainability at all scales—from the formal to the system and from the material to the energetic. While sustainability practices have long existed within the architectural profession, most progressive technologies have only been implemented in large-scale civic and commercial projects and there has been a severe bottleneck within the landscape of smaller-scale, single-family residential design.
 
This past semester, the "GreenCore" Advanced Design Studio sought to address this gap by exploring innovative and tangible ways that we could harness sustainable energy in residential building design from the inside out. Co-led by Lecturer and SOA alumna Claire Townley and Visiting Professor Jing Liu, co-founder of the renowned architecture firm SO-IL, the "GreenCore" studio looked to the Accessory Dwelling Unit typology to address issues of density, sustainability, and affordability using an adaptable design.
Over the semester, students worked in teams to design a family of prototypical ADUs for Austin's Montopolis neighborhood. They began the semester researching various energy, water, waste, HVAC, and pre-fabricated structural systems to then integrate within their designs. As part of their research, they also interviewed residents of the Montopolis neighborhood to learn more about the area, its history, and the challenges it is undergoing as a neighborhood on the precipice of change.
 
"Speaking with Montopolis residents and listening to their concerns gave the students a sense of purpose as they designed," Townley said. "In nearly every class discussion, the names of residents Frank, Natalia, and Tim were brought up in discussion. The students were remarkably intentional about how their designs would impact the people they met."

The output of their semester-long research was three prototypical Mod-Homes that integrate water, energy, and waste management systems into an efficient, pre-fabricated kit of parts. The structural and spatial triangles of the structures are derived from a shared modular, triangular grid. Each design employs the same construction method and system design guidelines while responding to site-specific requirements. By using a lightweight, modular structural components and CNC fabrication technology, the Mod-Homes can be built affordably and sustainably with minimal disruption to the surrounding neighborhood. 
At a system level, each Mod-Home also features a cistern for collecting rainwater, aquaponic technology that harnesses the symbiotic relationship between plants and fish, solar panels, air-to-air heating and cooling systems, passive cooling techniques, and waste systems like a compacting trash can and a gravity-fed toilet – all designed to promote sustainable living.
 
As part of their work, students also designed and built a 6-inch-to-1-foot prototype of Mod-Home ADU, comprised of over 180 uniquely-designed parts and over 1,300 individual CNC cut pieces. They also created a Mod-Homes brochure detailing the semester's research and work, as well as a 14-minute long video featuring interviews with Montopolis residents Tim Derrington, Natalia Lopez, and Frank Tijerina, and Community & Regional Planning Associate Professor Jake Wegmann, whose research focuses on housing affordability.   
As M.Arch student Christine Lee reflected on the semester: "This was unlike any studio I've ever taken. In most studios, you have your standard deliverables – plan, section, details, etc. – for review, but having a large-scale model to physically manage and walk into was entirely new. So was getting out of the UT bubble to meet with Montopolis residents. We also had to tackle certain constraints with budget, building logistics, group dynamics, as well as the wants and needs of clients, all of which aren't usually a part of most courses. In the end, we weren't really looking to find a fixed solution to a problem. The issues are far too complex for that. Within the frame and freedom of academia, we were provided a space to explore the opportunities of what could be. No absolutes, ultimatums, or a fixed result, but an area for us to investigate, understand, and be challenged by new possibilities."
 
As part of an ongoing research and development project led by Liu and her team at SO-IL, the GreenCore studio built off a previous studio led by Liu at Columbia GSAPP, where she is an Adjunct Assistant Professor. Eventually, Liu aims to gather the research and exploration from these academic studios and implement them in the real world.  Until then, the students will take the lessons they learned and the possibilities they explored with them.
 
Students in the studio include Brinton Freeze, Nikki Gendelman, Claire Greene, Osvaldo Herrera Garcia, Varsha Iyer, Alex Kelly, Campbell Kraemer, Charlie Kuok, Christine Lee, Shen Ni, Noland Summerhill, Amelia Webb, and Ania Yee-Boguinskiaia.