Gulf Coast DesignLab in Lufkin, Texas
Working with the Temple Foundation, students designed and built an outdoor pavilion in deep East Texas to serve as an environmental education center within the Boggy Slough Conservation Area.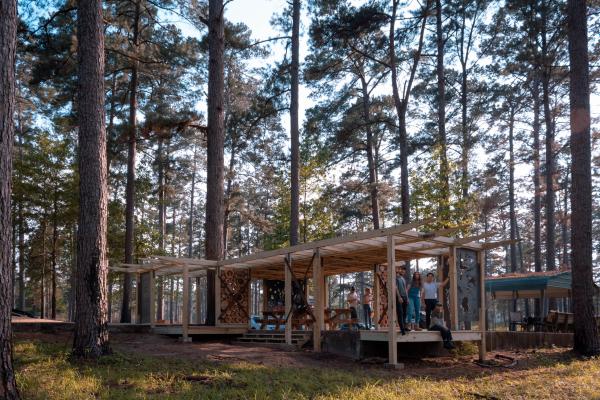 For years, Professor of Practice Coleman Coker's Gulf Coast DesignLab studio has worked closely with nonprofits and governmental agencies around the Texas Gulf Coast to develop innovative design solutions for complex challenges. Using a Public Interest Design approach, the studio provides students with the unique opportunity to gain hands-on design-build experience with a real-world community partner. 
Typically focused on the Gulf Coast, this semester's studio worked further inland along the western edge of the Neches River, near Lufkin, Texas. The client: The Temple Foundation, an organization that works alongside rural communities to build a thriving East Texas, which owns the 19,000+ acre Boggy Slough Conservation Area. Working closely with the Temple Foundation's forest managers throughout the semester, students sought to better understand the organization's mission and their facility needs, ultimately resulting in a master plan and the design of an ecologically-responsible outdoor learning center in the middle of the protected forest. 
Learn more about the project and watch a timelapse of the project build below:  
Students include Sebastien Bartlett, Laura Bui, Paula Cano, Ana Macarena de Salvidea, Yusuf Derya, Ciara Hackerman, Madelaine Hamilton, Annie Hayes, Aya Kousa, Tessa Laplante, Miguel Magtaan, Keely Morgan, and Kate Shirley.