Juan Miro Receives Texas Medal of Arts Award
The biannual award celebrates contributions by Texans in all disciplines of the arts, and recognizes Miró's professional practice, Miró Rivera Architects, for its body of work in Texas and beyond.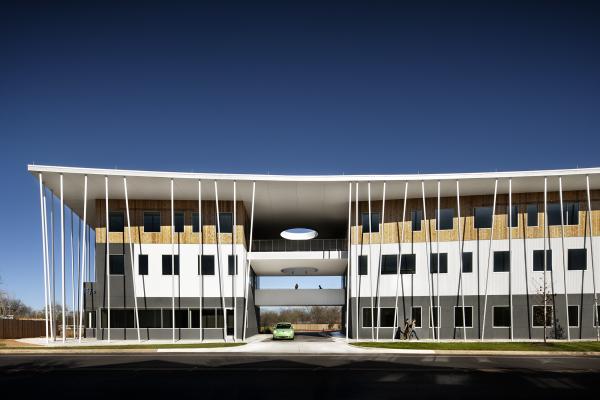 Congratulations to Professor Juan Miró whose professional practice, Miró Rivera Architects, is the 2023 recipient of the Texas Medal of the Arts Award for Architecture.
Since 2001, the biannual Texas Medal of the Arts Awards (TMAA) has celebrated 188 Texas leaders and luminaries who have achieved greatness through their creative talents. Taking place in venues across Austin, February 21 and 22, the two-day event is a star-studded celebration of the creative excellence, exemplary talents, and outstanding contributions by Texans in all disciplines of the arts.
In their recognition of Miró Rivera, TMAA notes:
Miró Rivera Architects is an internationally recognized architecture practice whose body of work exemplifies design excellence, blurs art, and architecture, and reflects a unique sense of place. The studio has garnered over 100 design awards including the AR Emerging Architecture Award; the Texas Architecture Firm Award; ArchDaily's list of the "World's Best Architects," and 40 local, state, and national awards from the American Institute of Architects. Their work has been extensively featured worldwide in numerous exhibitions and many prestigious publications, including Architectural Record, The Architectural Review, Architectural Digest, and The New York Times. In 2020, the firm published its first monograph entitled Miro Rivera Architects: Building a New Arcadia.
Miró Rivera Architects views each project as a unique undertaking. Each work results from careful consideration of the particular requirements of the client, site, and program. Woven into Miró Rivera's diverse practice is a remarkable degree of craftsmanship, exacting proportions, and a refined sense of materials and details. A consistent emphasis on natural light, transparency, and clear architectural progressions builds strong connections between interior and exterior. Miró Rivera's approach emphasizes integrating basic, time-tested sustainable strategies into the core design of its projects. The studio's principals are all LEED Accredited Professionals (LEED AP), and the firm's residential and commercial projects have achieved top sustainability ratings from Austin Energy Green Building and the United States Green Building Council.
Award-winning  Miró Rivera projects in Texas include several residences in Austin, Dallas, and Houston, the Lifeworks building in East Austin, a public restroom in the Lady Brid Lake trail, the school and Hindu temple at the Chinmaya Mission of Austin, a light footbridge in Lake Austin and the signature buildings at the Circuit of the Americas.
Professor Miró has been a faculty member at The University of Texas at Austin School of Architecture since 1997. In his teaching, practice, and research he explores the connections between architectural design, placemaking, nature, and the relevance of history. Since 1998, he has directed Studio Mexico, a program that affords students the opportunity to travel to Mexico to study Mexican architecture and design. Professor Miró was named a Distinguished Professor by the Association of Collegiate Schools of Architecture and is a member of UT's Academy of Distinguished Teachers. He has received both the Texas Society of Architects' Award for Outstanding Educational Contributions and the University of Texas Regents' Outstanding Teaching Award.
Previous Texas Medal of Arts Award architecture recipients include School of Architecture alumni Elaine Molinar and Craig Dykers of Snøhetta (2019), Frank Welch (2017), Charles Renfro (2015), Lake|Flato Architects, led by alum David Lake (2009), Dealey Herndon/State Capitol Preservation project (2003), and Wayne Bell (2001).