Meet Juana Salcedo, Assistant Professor of Practice
An architectural designer and scholar working at the intersection of architecture and urbanism, Juana Salcedo joined the School of Architecture in Fall 2022 as an Assistant Professor of Practice.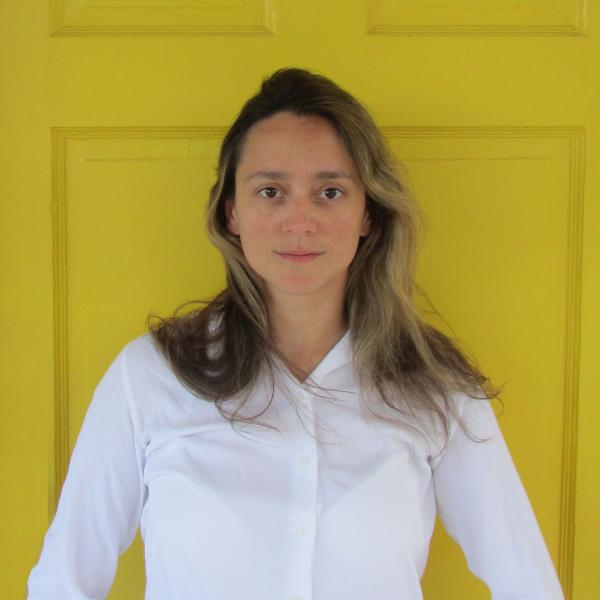 Juana Salcedo is an architectural designer and scholar working at the intersection of architecture and urbanism. Her work critically reflects on the meanings, uses, and shapes of public space and the diverse ways the spatial arts can contribute to the making of caring and convivial responses. 
Salcedo's research draws concepts and methods from environmental history, urban political ecology, decolonial studies, and science and technology studies to reconnect architecture and cities with the larger environmental and socio-economic processes that shape them, focusing on Latin America. 
We recently caught up with Juana to learn more about her background, research, and her time at the School of Architecture so far.
---
Tell us a bit about your background and your professional trajectory. How has your experience as a practitioner shaped how and what you teach?
I've sought to combine practice with research and teaching. While living in Colombia, I worked as a designer at El Equipo Mazzanti and Geografía Urbana and led projects at a range of scales, from residential projects to schools and community centers, to urban-scale projects including urban waterfronts and green corridors. I also worked with the government in the Department of National Planning, which is the entity that formulates and articulates the country's public policy on territorial planning and defines the country's strategic investment projects, and this experience challenged me to engage in discussions about regional and city planning with a wider set of disciplines, including economists, political scientists, and lawyers. In parallel, I taught architecture studios and seminars at Universidad de Los Andes and continued with independent research and collective projects that include collaborating as an editor with the digital platform Failed Architecture.
This set of experiences has shaped a theoretically informed and research-grounded approach to architecture and urbanism. I view critical reflection and design practice as two sides of the same interest: understanding the spatial politics involved in shaping the built environment and reconceptualizing and redesigning more convivial ways of living.
In terms of teaching, this view translates in two ways. On one hand, I seek to foster a solid and creative design expertise while recognizing that ours is only one among various disciplines and interests shaping the built environment. In this sense, I move away from the idea of the architect as a solitary genius towards a view of our practice as a deeply collaborative and political endeavor. On the other hand, this approach also means fostering classes that allow students to engage with different media and projects—including mapping, writing, and podcasting—and explore how we, as architects and designers, can engage with and make visible critical issues as well as shape public policy, in addition to the making of form.
Your project, "A Cartography of Interconnection: Jaguars, Humans and the Design of Urbanscapes in the Americas," was awarded a Research and Development Grant from the Graham Foundation in 2020. Tell us a bit about this project. What drew you to it, and where are you in the process?
What drew me to this project was a curiosity to explore urbanization processes and urban life through the lens of other living beings. The jaguar is the largest feline and a top predator in the Americas. Biologists regard this animal as an umbrella species, meaning its presence in a territory is a measure of the state of an ecosystem; this is why, for the past two decades, the conservation organization Panthera has proposed the Jaguar Corridor Initiative (JCI) as a way to envision a continuous territory, from northern Argentina to the southern United States, to prevent the fragmentation of the jaguar habitat.
So far, the Jaguar Corridor has not been on the radars of spatial practitioners and researchers. Yet, rather than being exclusive to conservation biology, the JCI is a socio-cultural project closely linked to urbanization processes. By including this initiative within the purview of the spatial fields, it helps to decenter the city as the primary area of inquiry in the Americas and instead encourages us to approach urban life in relation to processes of extinction and environmental change.
Thanks to the Graham Foundation grant, I developed a cartography of interconnection for the Jaguar Corridor Initiative that brings concepts and frameworks together from conservation biology, environmental economy, architecture, and urban studies. This cartography allowed me to understand the jaguar corridor as a radiography of urban life. I argue that the corridor is both a stronghold against urbanization and a deeply contested territory where Indigenous communities, peasants, and other marginalized populations have struggled for environmental justice and their right to live in these territories. At the same time, these areas of friction can also be potential opportunities to reformulate the terms of cohabitation and to cultivate landscapes for the sustenance of human and non-human lives.
So far, I have shared this research at a couple of conferences, and I will soon submit my first article for publication. I am also teaching a seminar about this research this semester at the School of Architecture. My ultimate goal for the project is to create an accessible and interactive website that serves as a tool to render visible and discuss the Jaguar Corridor with urban researchers and designers and with a broader public of city officials, policymakers, and engaged citizens.
Your studio this semester, "Bogota Studio: Into the Commons," is a joint architecture, urban design, and landscape architecture studio focused on urban sustainability in the capital of Colombia. What will you all get up to and what issues will you engage in this semester?
Bogota is an intriguing place to learn from and engage with as spatial practitioners and researchers. Over the past few decades, the city has gained visibility for promoting public space and public architecture, fostering 'citizen culture,' and implementing non-car transportation alternatives. This global recognition has shaped a narrative of the city's success that is both myth and reality. In the Bogota Studio, we are building upon and participating in an ongoing strategy led by the City of Bogota called Barrios Vitales (Vital Neighborhoods). This initiative is part of current transnational conversations about urban sustainability and climate warming focused on the scale of the neighborhood as a means of ensuring access to services and resources while reducing the dominance of motor vehicles within an area. Ultimately, Barrios Vitales is exploring ways to maximize public space and improve the quality of public infrastructures.
Understanding architecture, landscape architecture, and urban design as coextensive fields, students are developing a repertoire of design responses for one of the program's prioritized neighborhoods, Las Cruces—an emblematic and historically marginalized residential area in downtown Bogota. We are able to work on this project thanks to the generous collaboration of city officials from the Secretary of Mobility and consultants from the World Bank leading the strategy, and in particular, of our local studio partner, Julián Castro. Throughout the studio, students will engage with a broad spectrum of organizations and disciplines involved in this project. In doing so, we will explore and challenge conventional notions of private and public life and gain an expansive understanding of public space and infrastructures. In this sense, the studio asks students to see the city officials and World Bank as clients while reflecting critically on the potentials, frictions, and competing interests at stake in the initiative.
During Spring Break, the studio will also travel to Bogota. There, students will deepen their understanding of the neighborhood and the implementation of the Barrios Vitales strategy in other areas of the city. Students will present preliminary proposals to a panel of city officials, consultants, local architects, and community members involved in the initiative. We'll also visit relevant urban and architectural projects and places that enhance the city's public sphere, prompting discussions regarding public space, public transportation, civic infrastructures, and affordable housing. This includes visiting Rogelio Salmonas' Virgilio Barco Library and the recently built Tropicario in the Botanical Garden, as well as non-car transportation projects like Transmicable (the gondola-lyft system that connects people living in hilly, low-income areas) and Sunday's Ciclovía (a regular event when cyclists and pedestrians take over the most important avenues).
What have you enjoyed about joining the UT School of Architecture and living and working in Austin so far?
I've been inspired by the different programs within the school and the broad array of explorations done here by faculty and students. I see the various conversations happening at the school as a unique advantage to all the programs here. Meeting so many curious and committed students has been just incredible and has made my classes an enriching experience for me. In addition, given that part of my practice and research focuses on Latin America, I've been fascinated by the wide array of archival resources, faculty, and events engaged with the region.
I've also found Austin to be a wonderful place for thinking about questions regarding collective life. Acknowledging that the city is in a pivotal moment, amid unprecedented growth, many questions arise regarding socio-environmental well-being, equity, and affordability.
What is something that students and colleagues should know about you? Besides your work, what's something you're passionate about, or what do you do for fun?
I'm an outdoors person, so the weather, the bodies of water, and the green areas of the city have been a perfect fit. I'm passionate about swimming and, more recently, to my surprise, I've started rock climbing. My partner has been rock climbing for a very long time, and I've just only joined him here in Austin. We've been visiting Reimers Ranch and McKinney Falls a bit these past few months