In Memoriam: Larry Doll
Larry Alan Doll, 69, Associate Professor of Architecture Emeritus at UT Austin, died at home in Austin after a heart attack on July 21, 2018.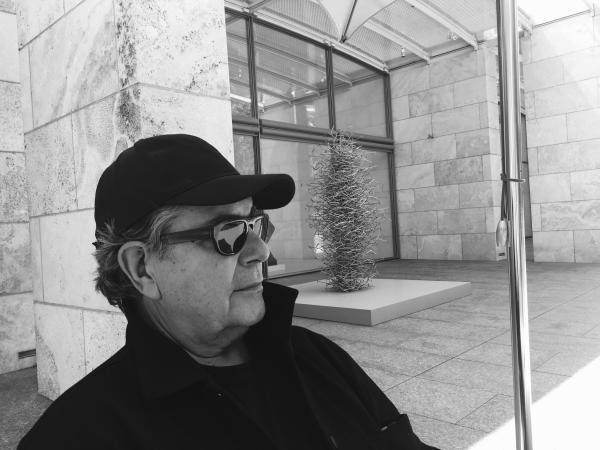 Larry Doll was born in Ithaca, New York on September 1, 1948, to Peter B. and Elaine Crispell Doll.  He was the first in his family to graduate from college.  He received his professional undergraduate degree in architecture from Virginia Tech and his Masters degree from Cornell University. 

Doll taught at UT Austin for 42 years, starting in 1975.  His courses focused on design, architectural theory, and the history of architecture since 1975. He served as Assistant Dean of Architecture from 1983-1993, and he was Founding Director of UT's Summer Academy in Architecture (est. 1979), a program for high school students of diverse backgrounds designed to spark interest in studying architecture. Doll also held visiting teaching positions at Virginia Tech, Cornell University, and the University of California Berkeley.

In 1985, Doll established the first European study abroad program for UT architecture students. Over 600 students have participated and consistently report—even 30 years later—the life-changing impact of their exposure to modern and historical architecture in an academic context.  Each year, Doll designed different itineraries through Western Europe to facilitate the study of a wide range of scales and approaches to architecture; he traveled with and taught in the program most years.  As someone who had never traveled outside of the United States until he was in his late 30s, the success and transformative impact of the program was a special source of gratification. In 2009, UT Austin's Center for American Architecture and Design published Drawing on Uncertainty, a collection of sketches Doll completed between September 30 and December 6, 2005, while on the European Study Abroad Program.

Doll's teaching, architectural practice, and life were guided by what he called four positions:
Architecture is a medium of cultural exploration and production.

Architecture penetrates the transparency of our senses, reminding us that we see, we hear, we feel, and we are in the world.

Architecture is both critical and reflective of environmental, social, economic, political, and historical issues.

Architecture uses all of the world's resources with care and must be worthy of the resources it consumes. 
Doll was also a Registered Architect in Texas and his architectural practice focused on single-family residences and smaller commercial buildings.  He was pleased to have the house he designed for his wife, Laura, and himself included in Marfa Modern:  Artistic Interiors of the West Texas High Desert, by Helen Thompson with photography by Casey Dunn. Marfa was an emotional anchor and a second home since 2001. He and Laura were grateful for the welcoming attitude of the Marfa community and the strong sense of connection it afforded. 

Doll was a two-year survivor of lung cancer who felt deeply indebted to his oncologist, Dr. Carlos Rubin de Celis, whose mission to "treat the patient and not the disease" left him feeling buoyed after every discussion.  His compassionate, attentive regard of both Larry and Laura always allayed their fears.

Doll is survived by his wife of 47 years, Laura Ring Doll.  They met as undergraduates at Virginia Tech in 1969.  His brother, Michael Doll, of Chambersburg, VA, and a nephew, Peter Benjamin Doll, of San Jose, CA, also survive him.  His broader family includes brother-in-law, Dan Ring of Atlanta, and sisters in law Dot Nesbitt and Cynthia Foster of Alaska and California respectively, as well as nieces and nephews in ever-changing locations. Larry Doll also wished to acknowledge his love and gratitude for the deep, decades-long connection he and Laura shared for the last 20 years with the Saucedo family of Austin:  Juan, Veronica, Victor, Petra and their children.

One of Doll's final architectural projects was a small addition to the Marfa Public Library, designed jointly with Peter Stanley of Marfa. The project is nearing completion but needs additional funds. You may support the remaining work by making a charitable contribution at https://www.marfapubliclibrary.org/friends. 

Grand Companions in Ft. Davis is another of Larry's favorite non-profit organizations, having rescued his beloved Murphy, a constant source of comfort and joy throughout the last two years: http://www.grandcompanions.org.  

And, of course, The University of Texas at Austin School of Architecture was the basis of Doll's career and the institution that he was determined to make one of the top architectural education programs anywhere: https://soa.utexas.edu/about/support-utsoa

A memorial mass will be held:

Saturday, August 18 at 9:30 am
Saint Mary Cathedral 
203 East 10th Street, Austin, Texas 78701
10th and San Jacinto Streets with parking in the garage behind the church

--------

Well-loved by his students and colleagues, Doll leaves a lasting impression:

"I knew Larry Doll from the day we both started working at UTSOA in 1975. Then-dean Charles Burnette probably hired us because our interests, like his, were in understanding how the design process works in the human mind. Larry and I were on similar, system-theoretic tracks, and we both thought that the work of perception psychologist J. J. Gibson was essential to understanding why buildings have the effects on us that they do. Later, it was another Gibson that Larry introduced me to: William Gibson, and the notion of cyberspace. But that's another story. Larry and I taught together Laurel and Hardy style, making up fiendish new exercises for students. We went to meetings together, lunched together, dreamed together, celebrated each other's triumphs, and consoled each other's failures. To my mind, Larry was the smartest person on our faculty. His tenure as assistant dean was marked by years of tireless attention to our undergraduate program and its increasing reputation. His many more years first inventing and then maintaining the School's Europe travel program have left a lasting legacy, not only for the school, but in the minds and hearts of the literally hundreds of students that participated in the program and had their eyes opened. Larry had the same effect on students who took his studios and seminars: a clarity of method, the demand to keep questioning, a wealth of human experience, and every design trick known to humankind. Larry was an early adopter of digital design tools, becoming expert at Form-Z, itself a remarkable tool. Larry's was a rebellious spirit, and yet never did that emerge in behavior other than scrupulously decent. Larry had a lot to teach us all. In the later decades of our friendship, I would often not see him for months. (He was in Europe, he was in San Francisco with Laura, he was in Marfa at his amazing house there.) I didn't miss him, really. But now that he is gone forever, I miss him daily, and can hardly get him out of my head. Larry, oh Larry, you died so nobly, but far too soon." 

-Michael Benedikt, Professor and Hal Box Endowed Chair in Urbanism

"I met Larry perhaps twenty years ago at an event or a conference. There was something about him—a genuine enthusiasm, a generous and open demeanor—that indelibly etched into my mind such that whenever I thought or heard about UT, an image of Larry would pop up. As a result of that association, UT seemed to me to be a place of warmth and collegiality, a place I wanted to be. When I arrived last year and finally had a chance to talk to Larry at length, I began to understand why he elicited such emotions. He was the heart of this school, indeed, he was its hearth. He emanated such an aura of warmth that connected us all as family. I am so grateful to have had those few months to get to know the man behind the image.  I will miss him dearly and hope that his presence continues to linger in our halls."

-Michelle Addington, Dean and Henry M. Rockwell Chair in Architecture

"Larry put his heart and soul into the Europe Program, and we, as a group, are so grateful for his lasting impact on this incredible experience. I am honored to have been a part of his final class of Europe students, for we all relished in the opportunity to learn and grow alongside him as we traveled. Larry had so much love, enthusiasm, and energy to give, and I am so thankful that his legacy will continue on with the Europe Program and UTSOA. He will be sorely missed by every member of #utsoaeurope2017."

-Caroline Stacey, BArch student

"Being on Larry's last trip with the European Study Abroad Program, I felt that he had a special connection with our cohort; although I'm sure students from programs past would say they felt that same connection through Larry's passion for travel and architecture. I know that he and his wife, Laura, provided me with invaluable advice and assistance while abroad and beyond. For instance, after seeing my Facebook status in need of a ride from the airport, he simply commented, "We'll be there," and the two arrived with their dog Murphy in tow. Larry and Laura have continued to be an encouraging force as I prepare to graduate from UTSOA and hope to move abroad, inspired by my time in his program. I feel so lucky to have known such an open-hearted, quick-witted and skilled professor. Thank you, Larry."

-Kai James, BArch student

"While traveling, Larry demonstrated an insatiable curiosity for the world around us and helped our students to see what was not self-evident. Larry conveyed genuine enthusiasm in sharing the joys and pleasures of understanding extraordinary buildings and cities."

-Elizabeth Danze, FAIA, Bartlett Cocke Regents Professor in Architecture

"As my first design instructor at The University of Texas, Larry Doll had a lasting and indelible impact on my thinking as a designer. He instilled in me an authentic sense of wonder about the role architecture plays in our world and it was a pleasure to teach alongside him."

-John Blood, Distinguished Senior Lecturer

 Larry will be dearly missed.