A Message from Dean Michelle Addington
Dean Addington welcomes students back to campus for the 2018-19 academic year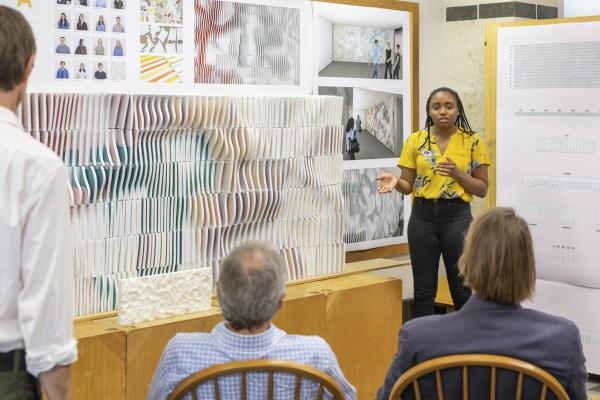 September 10, 2018

Welcome to the School of Architecture as we kick off the 2018-19 school year! 

For those of you new to campus, we are thrilled that you are joining our close-knit and collaborative community. Our school may be one of the smallest on campus, but our reach extends far beyond our borders as we play critical roles in shaping the built environment in manifold ways across multiple domains. Those of you returning to campus are familiar with the disciplinary breadth and research depth of the school, but I'd like to foreground a number of changes that we believe will enhance the learning experience of every student as well as build upon solid foundations in our core areas of expertise.

As part of a school-wide reorganization, we are more comprehensively supporting interdisciplinary education by uniting all of our programs under a single Associate Dean of Academics. Cisco Gomes, who has served as Associate Dean of Graduate Studies, will take on this role. We also created two new dedicated streams: one to serve the needs of our students, and the second to coordinate research and scholarship. The School of Architecture has a long tradition of student engagement and support, and by consolidating our team and bringing in additional resources, we hope to take this to the next level. One of our key objectives is to ensure equity and equal opportunity for every student in our programs. You will hear more about student initiatives as the year progresses from our new Assistant Dean of Students, Charlton Lewis.

The school had already built robust research enterprises through the Center for Sustainable Development. While it is widely recognized that new ideas are critical to planning and design practices, very few schools have our in-house capability to pursue and manage large-scale federal grants. One prominent example is the U.S. Department of Transportation funded University Transportation Center consortium, led by Dr. Ming Zhang. As both the school and the university are seeing research and grant opportunities rapidly emerge across several sectors, we decided to bring together our many centers and research projects into one administrative department to streamline processes and communications, and to build a critical mass in our key areas of expertise. Our new Associate Dean of Research and Technology, Allan W. Shearer, will be working with faculty, staff, and students to coordinate our wide-ranging activities, bring in new opportunities, and raise our leadership profile throughout the design and planning disciplines.

We also have unique opportunities and capabilities to generate knowledge that supports state, regional, and local stakeholders. Planet Texas 2050 is an example of the type of robust interdisciplinary research a major university can produce if the right people and resources are brought together in a comprehensive, long-term, multi-layered endeavor. We are so fortunate that our faculty member, Katherine Lieberknecht, is one of the chairs of this initiative which has more than 120 faculty across campus asking difficult questions about how our state, our nation, and our planet will respond to major environmental and humanitarian crises. Already, Dr. Lieberknecht has established the Texas Metro Observatory project that will enable multiple internal and external constituents to access a metropolitan–scaled data repository for analysis, simulation, and visualization.

Our partnership with the City of Austin continues to grow as we receive and realize grant-funded projects, from evaluating transportation and housing to a major research initiative, led by Dean Almy, investigating the impact of different planning scenarios involving the Austin Convention Center to advance a more accessible and vibrant downtown. We are particularly excited to host an upcoming Mayors' Institute on City Design (MICD) this December in collaboration with the Office of Austin Mayor Steve Adler. The MICD is an initiative of the National Endowment for the Arts in partnership with the United States Conference of Mayors that has been working with mayors since 1986 to build their capacity for directing urban design.

Beyond expanding research efforts and community-serving partnerships, this fall semester will herald in a major renovation of our West Mall Office Building to enhance digital teaching and research. Generously supported by the Stillwater Foundation and UT Austin's Office of the Executive Vice President and Provost, the renovation includes new state-of-the-art teaching spaces as well as facilities to support advanced research. Faculty are beginning to move in, and we expect classrooms to be fully functional before the spring semester commences.

We have many other projects and initiatives under way, but I wanted to close my letter to you with yet another welcome to four new faculty. Phoebe Lickwar, Associate Professor of Landscape Architecture, comes to us from the University of Arkansas and as founder of an award-winning practice, Forge Landscape Architecture. Miriam Solis, Assistant Professor of Community and Regional Planning, joins us after completing a prestigious Switzer Fellowship at Berkeley. Aleksandra Jaeschke, Assistant Professor of Sustainable Design, just finished her doctorate at Harvard and had been teaching urban design at Woodbury University. Sara Zewde, joining us this fall as a Race and Gender in the Built Environment Fellow, is an award-winning scholar, landscape architect, and artist. You will receive more detailed announcements about these four remarkable additions to our faculty in the next few weeks. We are thrilled and honored to have such an impressive group join our school, and I hope that everyone joins me in extending a warm welcome.

Have a great start to the school year. If what starts here changes the world, then the world better be ready for us!

D. Michelle Addington

Dean
Henry M. Rockwell Chair in Architecture
School of Architecture
The University of Texas at Austin

Image caption:

Student Danielle Ndubisi showcases a prototype of her studio's ONDA Wall project during final reviews. The ONDA Wall will be installed as part of the West Mall Building renovations.