Multispecies Lounge On Display in Toronto
Associate Professor Nerea Feliz designed, in collaboration with Joyce Hwang, a series of urban furnishings for The Bentway that invite interspecies encounters with urban wildlife.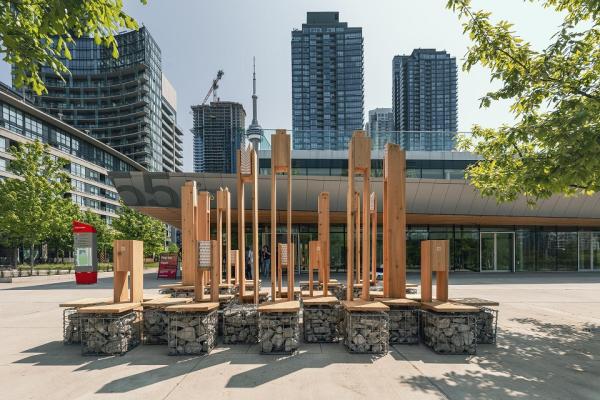 Nestled underneath an elevated expressway in Toronto, Canada, is The Bentway, a public trail and corridor that, since 2018, has transformed an infrastructural obstacle between the city center and Ontario Lake into a public space and pedestrian artery. This summer, a new project by Associate Professor Nerea Feliz—developed with her long-time collaborator Joyce Hwang under the moniker Double Happiness—is one of the newest installations of The Bentway's public art program. 
Commissioned by the Bentway for display from May 26 through September 24, 2023, Multispecies Lounge aims to make visible the non-human populations that are active participants in Toronto's urban life. Featuring renewable resources such as red cedar, as well as recycled materials like discarded construction waste, a series of urban furnishings integrate birdhouses, insect habitats, hibernacula for smaller terrestrial animals, and seating for humans. 
By providing space for human and non-human occupation, the project aims to raise awareness about the urban wildlife that resides within the built environment in and around Canoe Landing Park in the heart of Toronto. Habitat conditions in the project cater to popular species like the American Robin and Barn Swallows, as well as less-recognized urban dwellers like solitary bees and Dekay's brown snake. The piece also allows human visitors to relate to birds' and insects' perceptions of the city through UV-painted details. Habitat surfaces feature a series of patterns that visually change under UV light, resembling numerous natural patterns found in the environment, which are ordinarily imperceptible to the human eye. In addition, QR codes displayed on the piece serve as an educational tool, providing human visitors with first-person narratives about these species' stories of survival and their adaptation to city life.  
Multispecies Lounge is the latest in a series of projects by Feliz and Hwang that bring together the human and the non-human. In 2019, the two developed a proposal for a series of urban furnishings, "Hidden in Plain Sight," as part of a multi-year initiative to turn the outdoor spaces of Matadero Madrid into a laboratory for testing solutions to combat climate change. And in 2020, Feliz's Advanced Interior Design Studio, "Bug Filter," tasked students with capturing the world of insect vision by designing a series of lenses that enable us to see as if through the compound eyes of local pollinators.
Similar to Hidden in Plain Sight and Bug Filter, Multispecies Lounge seeks to cultivate environmental awareness and a sense of intimacy between humans and other life forms, encouraging respect, and even admiration for their resilience in urban settings. 
The Multispecies Lounge project team includes architects and educators Joyce Hwang and Nerea Feliz, as Double Happiness; artist assistants Pamela Nelson, Stacey Feldman, and Mel Coleman; Alice Hwang and Laurice Hwang; and UT School of Architecture Master of Interior Design student Michelle A. Franks.