Placemaking: The Role of Historic Preservation and Building Documentation in Creating Inspiring Public Spaces 
Associate Professor Benjamin Ibarra-Sevilla highlights placemaking work by the School of Architecture's Historic Preservation Program in some of our country's national parks, illustrating how historic preservation can balance the seemingly divergent aims of creation and conservation. This article originally appeared in the 2023-2024 edition of Platform, "Civics and Placemaking."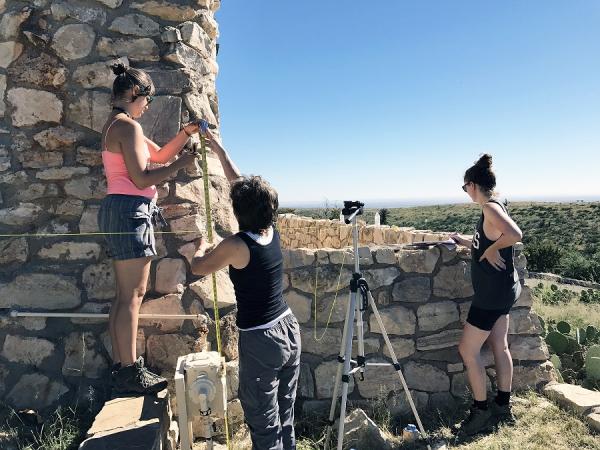 On the one hand, placemaking involves intentionally shaping vibrant spaces that allow for new experiences and expanded ways for people to interact. On the other hand, placemaking also involves protecting significant historic buildings, sites, and landscapes to safeguard our cultural heritage and ensure the continuity of history and memory for future generations. Challenges of balancing these seemingly divergent aims become more complicated—and more contested—when working in the public realm. In times of rapid social and technological change, successful syntheses of creation and conservation become increasingly important. Work done by the School of Architecture's Historic Preservation Program in some of our country's national parks shows how to achieve successful results. 
Placemaking and Historic Preservation 
Historic buildings and landscapes possess unique characters and tangible connections to the past. They evoke a particular time and a specific place, serving as visual anchors that ground a community in its history and identity. Incorporating historic buildings and sites into placemaking efforts allows for the preservation and celebration of the community's cultural heritage, fostering collective memory. 
The connection between placemaking and historic preservation goes beyond aesthetics and cultural significance. Historic buildings have a social and economic value that can be harnessed to drive sustainable development. Preserving and repurposing these structures can revitalize neighborhoods, attract tourism, and stimulate economic growth. By activating historic buildings as community hubs, cultural institutions, or small businesses, placemaking efforts can contribute to the vitality and economic viability of a place. 
A good argument for historic preservation as a placemaking strategy is that it aligns with the principles of environmental sustainability. Rehabilitating and reusing existing buildings minimizes resource consumption and reduces carbon emissions associated with new construction. By incorporating sustainable design practices into preservation projects, placemaking can promote environmentally responsible development, creating public spaces that are not only inspiring but also environmentally friendly. 
Historic preservation has evolved beyond its traditional role of protecting culturally significant buildings and landscapes. It has emerged as an avenue for achieving economic growth and social equity, particularly in the realm of affordable housing. Preservation-based affordable housing projects leverage the existing infrastructure and character of historic buildings through adaptive reuse, repurposing them into affordable housing units. 
By utilizing existing structures, these projects reduce construction costs and time while preserving the architectural heritage of communities. This approach not only addresses the pressing issue of housing affordability but also contributes to the revitalization of neighborhoods, attracting residents and businesses, and stimulating economic growth.  
Preservation-based affordable housing promotes social equity by preserving the existing fabric of communities, mitigating the displacement often associated with gentrification. By maintaining the character and affordability of neighborhoods, these projects create inclusive, mixed-income communities where people from diverse socio-economic backgrounds can live together, fostering social cohesion and supporting long-term community resilience. It aligns with principles of environmental sustainability by reducing the demand for new construction and incorporating energy-efficient technologies. 
The intertwined values and strategies of placemaking and historic preservation make it possible to highlight the value of our built heritage while also creating inspiring public spaces. By integrating historic buildings into placemaking efforts, we can leverage their authenticity, cultural significance, and aesthetic qualities to foster a stronger sense of place, community engagement, and economic vitality.  
Partnership: The Historic Preservation Program and the National Park Service 
Our Historic Preservation Program offers a rigorous academic curriculum that equips students with the knowledge and skills necessary to address interrelated questions related to the preservation, conservation, and restoration of built environments. However, academic instruction alone cannot fully prepare students for the complexities and challenges of real-world preservation projects. This is where the ongoing partnership with the National Park Service becomes instrumental: it enables students to engage in hands-on learning experiences, allowing them to apply their theoretical knowledge to practical preservation efforts while gaining invaluable insights into the professional field. 
Over the last eight years, the partnership between the Historic Preservation Program and the National Park Service has proven to be a fruitful collaboration that mutually benefits both institutions in accomplishing their respective missions. This educational relationship has provided valuable learning opportunities for students while supporting the preservation efforts of the National Park Service.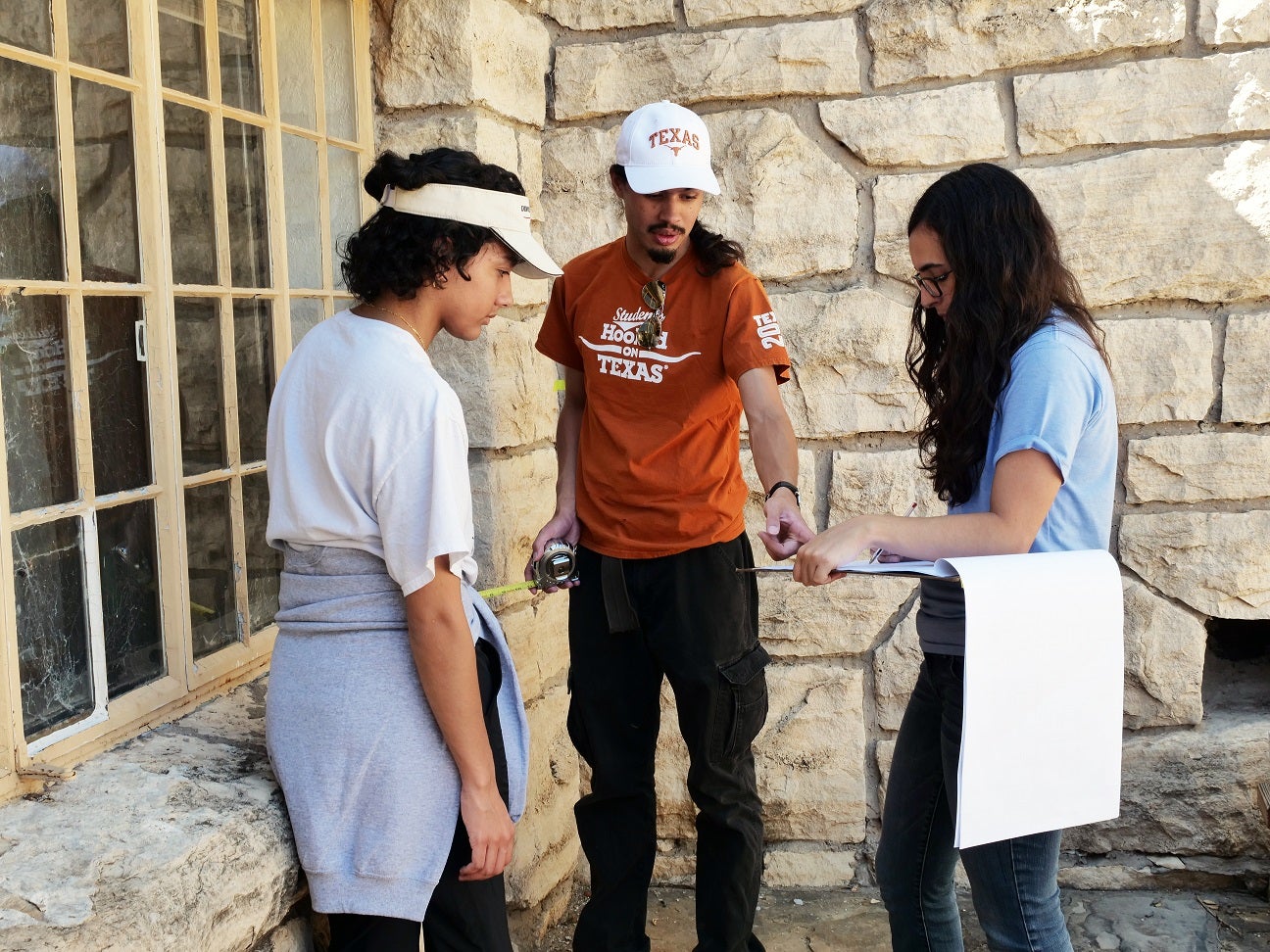 The National Park Service benefits from this partnership by harnessing the enthusiasm, fresh perspectives, and expertise of the students. The documentation and condition assessments of historic buildings carried out by the students provide the National Park Service with critical information for making informed decisions regarding the preservation, maintenance, and interpretation of these structures. The students' contributions thus play a vital role in the long-term stewardship and conservation of historic resources within the National Park System. 
Additionally, the partnership serves as a platform for knowledge exchange and innovation. Faculty members from the School of Architecture collaborate with National Park Service professionals to develop best practices, methodologies, and strategies for preserving historic buildings—fostering a spirit of continuous learning and improvement. 
These outcomes support the missions of both institutions. The Historic Preservation Program is dedicated to advancing the field through education, research, and community engagement. The partnership fulfills this mission by providing students with practical experiences and by actively participating in professional conversations that contribute to the preservation of our cultural heritage. 
Similarly, the National Park Service is committed to preserving the nation's natural and cultural resources for future generations. The partnership enables the National Park Service to tap into the expertise and passion of the students, expanding its capacity for preserving historic buildings and sites while engaging the field's future leaders. 
This partnership serves to educate students about the importance of cultural heritage and the need for its preservation. By engaging in preservation projects with the National Park Service, students develop a deeper sense of responsibility and stewardship, becoming experienced advocates for the preservation and interpretation of our shared heritage. In addition, these experiences have provided an identity to our program—one that helps future students recognize the value of the curriculum and philosophy behind it.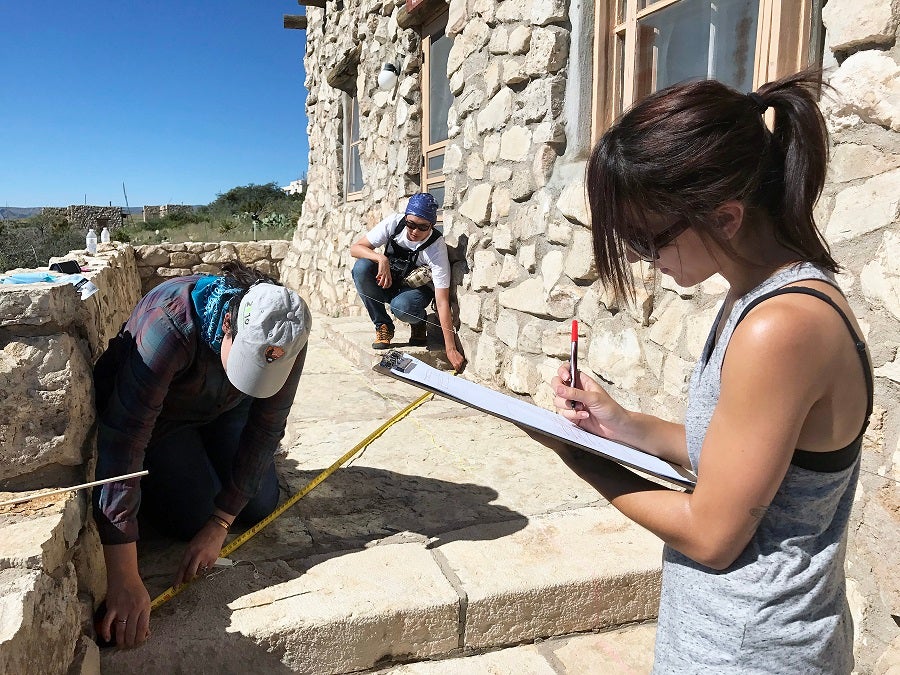 Student Participation: Documenting Historic Buildings and Placemaking Education 
One of the key aspects of the partnership between the Historic Preservation Program and the National Park Service is the documentation of historic buildings within the parks. This hands-on engagement provides students with unique educational opportunities that enrich their academic experience and contribute to the creation of inspiring public spaces through a placemaking framework. 
When students are tasked with documenting historic buildings, they are immersed in a process that requires a deep understanding of architectural elements, historical context, and preservation principles. Through meticulous fieldwork, students learn to observe, measure, and record the physical attributes and conditions of the buildings. This process involves conducting research, analyzing primary and secondary sources, and interviewing experts or local community members who may have knowledge about the structures. 
Through these activities, students develop research capabilities, critical thinking skills, and an appreciation for the complexity of historic preservation. They learn to navigate the challenges posed by historical gaps, incomplete documentation, and evolving conservation practices. The students' work contributes to the body of knowledge about these historic buildings, providing valuable information that is documented for future research, interpretation, and preservation efforts. 
But educational opportunities arising from this partnership extend beyond technical skills and historical research. The National Park Service serves as a kind of client for the students, exposing them to the dynamics of professional relationships and the need to balance multiple stakeholders' interests. Through interactions with National Park Service professionals, students learn to navigate the complexities of project management, communication, and collaboration.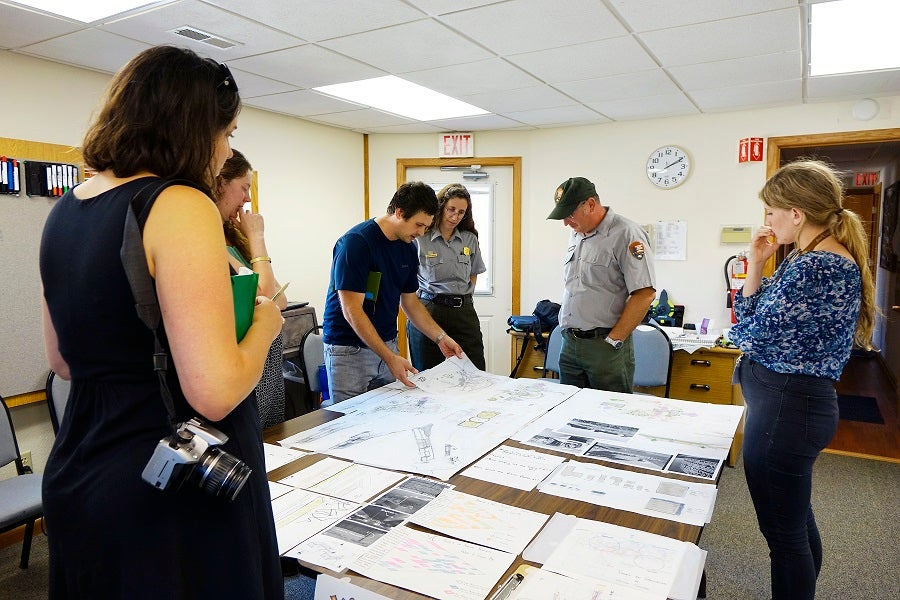 This firsthand experience on real preservation projects instills a greater sense of responsibility and stewardship among the students. They become more acutely aware of the significance and complexity of cultural heritage and the urgent need to protect and preserve it for future generations. This understanding often goes beyond that of a mere academic exercise; we have seen how it translates into a student's personal commitment to the buildings they document and to the broader cultural landscape. 
Over a semester, students come to understand how these historic buildings can serve as anchors of identity and memory within a community, and how the structures can contribute to the creation of inspiring public spaces that reflect the community's cultural heritage and enhance a sense of place. In part, this knowledge positions them to develop and employ the tools of preservation advocacy. But students are also challenged to think critically and imaginatively about how one might adapt and repurpose these constructions to meet contemporary needs. Students also envision appropriate reuses of these buildings. This creative problem-solving aligns with the principles of placemaking, which emphasize the active engagement of stakeholders and the incorporation of diverse perspectives to create meaningful and vibrant public spaces. 
Placemaking draws upon historic preservation principles to create public spaces that embody a sense of place and cultural continuity. By recognizing the value of our built heritage and integrating it into the design and activation of public spaces, placemaking leverages the authenticity and historical narratives of historic buildings to enrich the overall experience of a place. The partnership between the Historic Preservation Program and the National Park Service builds a bridge between theory and practice through education. The opportunities to engage these culturally and naturally important places have helped us to build on our students' passions for placemaking by giving them opportunities to not only learn new technical and critical thinking skills, but to understand and—even more importantly—take on the responsibilities to use them. Their work exemplifies the transformative power of placemaking, strengthened by integrating cultural heritage into the design and activation of public spaces. It also contributes to the creation of spaces that will serve as a source of inspiration for the American people.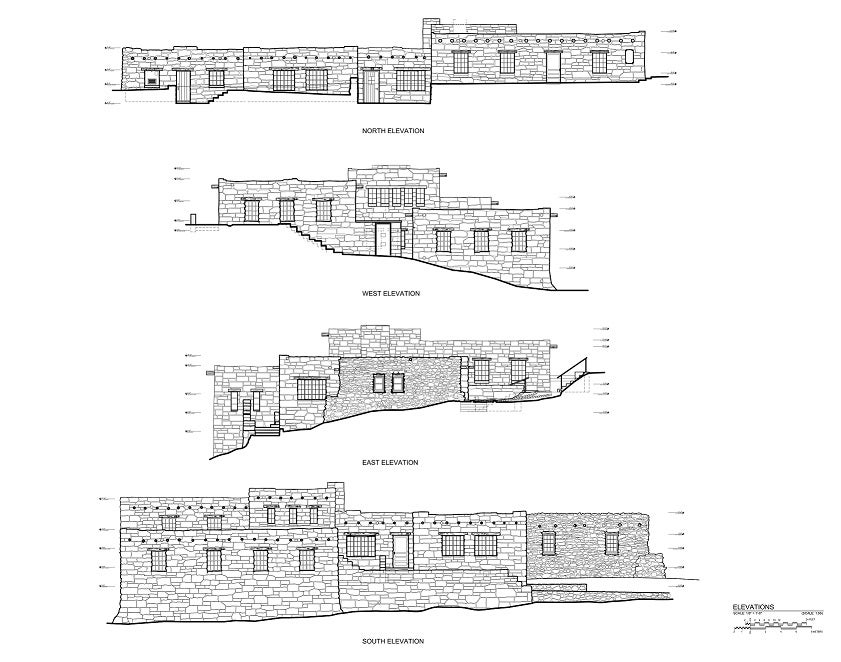 Fig.1: Students documenting a 1936 building at Carlsbad Caverns National Park. Benjamin Ibarra-Sevilla
FACULTY: 
Benjamin Ibarra-Sevilla