PRP Now! Amir Mirza // Diller Scofidio + Renfro
PRP Now! is a series of interviews that highlight a current UTSOA Professional Residency Program student every few weeks.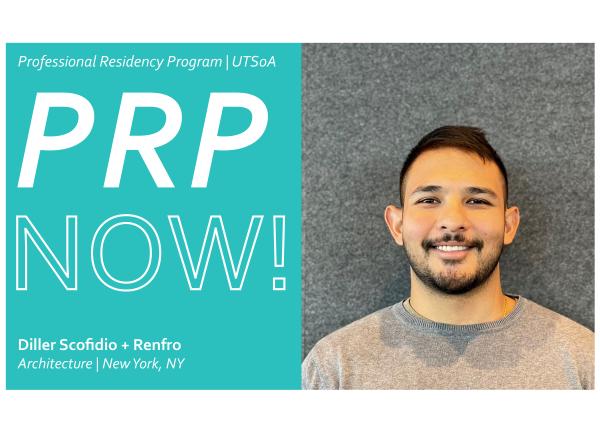 PRP: Tell us about your PRP firm. Where are you working?
I'm working at Diller Scofidio + Renfro in NYC. The firm is located in Chelsea, with awesome views of the city, right near the water. DS+R works on a variety of projects, but the studio is best known for its cultural and institutional work. 

PRP: Do you enjoy the city you're working in? Favorite aspects?
The city offers a lot to the senses and there's never really a dull moment. Walking everywhere and having the subway at my disposal has been a big plus, too. Wherever you are, there's always something to go see or do. I didn't think I'd like the density of the city but it's been a pleasant experience and surprise for me. Not even including work, I feel like I learn something new and exciting every day. 

PRP: What is currently on your desk? What are you working on?
My desk usually has a couple of sketches, a water bottle and some coffee. I've been spending a lot of time in the model shop, which has been fun, I feel like I'm making up for lost time over the pandemic. The first project I joined was the National Museum of Transportation in Budapest. That was a lot of fun and I helped make a 1:25 model around 3'x4'. I'm currently on a type of adaptive reuse project in North America. I had a big deadline last week and I was working on a 1/4" model. This week it's some detail work, so I enjoy that I get to understand projects in several different ways. 
 
PRP: Describe the firm culture? 
Everyone works their tail off. There are long hours and some stressful work sessions. The people I work with and my own learning progression has made it all worth it. I feel really lucky to work on the projects that I have, and seeing other talented coworkers motivates me to pursue good work. In a lot of ways, it feels similar to being in school. 
 
PRP: What is the first thing you'll tell your classmates upon your return to UT? 
Don't doubt yourself. Take advantage of every opportunity PRP and UT offers you. It's worth it to take a break from Austin, test yourself, learn something different, and bring it back to UT. The most validating thing for me was knowing that all the long hours in school have prepared me well. There is still a learning curve for me here, but it's great to feel I have the requisite skills to navigate the tasks at hand.  
 
PRP: As you're finishing up the week, what are your plans for this weekend?
I'm hoping to bike through Riverside park and maybe check out a couple museums this weekend.