PRP Now! Jacob Middleton // Clickspring Design
PRP Now! is a series of interviews that highlight a current UTSOA Professional Residency Program student every few weeks.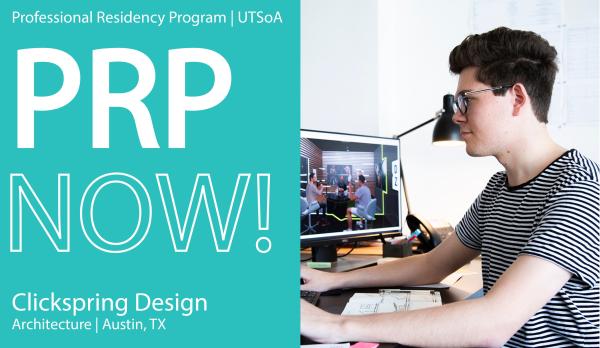 PRP: Tell us about your PRP firm. Where are you working?
I am working at Clickspring Design right here in Austin, Texas! Our office is located on East 6th Street, so we are surrounded by artisanal tacos, delicious coffee, and craft breweries. Clickspring is an award-winning experiential design firm, specializing in Broadcast Design, Consumer Branded Environments, and Events & Entertainment Design. My office consists of 7 people, but between Austin, New York, Beijing and everywhere else in between, about 30 staff members keep Clickspring ticking.
PRP: What is currently on your desk? What are you working on?
Freshly brewed coffee and a stack of redlines are occupying my desk right now. The entire office is currently working on a studio design for a major American television network. I've had my hands full with drafting scenic details, keeping the digital model up to date, and designing furniture. The project is moving at a very rapid pace. It started less than a month ago and should be completely built out in the next four months. I've been very fortunate to get to watch this project evolve from its infancy to where it is now, engaging in every step of the process along the way. The speed in which our broadcast projects move is amazing – there is definitely a sense of instant gratification I get from working at Clickspring that I don't think I would experience elsewhere. There is always something new to learn and something to keep me busy.
PRP: Describe the firm culture? The office atmosphere?
The firm culture is one of my favorite things about Clickspring. The office is diverse and multidisciplinary – our designers come from around the world and from a variety of backgrounds which helps foster creativity in the office. Working closely with these designers has exposed me to different workflows and has impacted the way I think about design.

The firm has the resources and clientele you would expect from an international firm but maintains the culture of a small, craft practice. Our office is very close-knit, and we all care for one another. Grabbing tacos for lunch and going to happy hour on Friday is more common than not! It is a rather laid-back office, but the team is always evolving, motivated and excited to get work done. Not to mention, about 20% of the Clickspring team are Longhorns, hook 'em!
PRP: What is the first thing you'll tell your classmates upon your return to UT?
I will tell them to turn on their televisions to see all the cool projects I was able to work on during my residency, obviously!

Seriously though, PRP has been such a blast so far. I've learned so much from my stint at Clickspring Design that I wouldn't have learned in a typical studio environment. If you're planning on doing PRP, which I suggest you do, have expectations! Know what you're looking for and use PRP as a resource to help you succeed academically and professionally.
PRP: As you're finishing up the week, what are your plans for this weekend?
Hiking at McKinney Falls, eating my body weight in Tex-Mex and then resting! Having weekends off is a luxury I haven't had in a long time and I am loving it!
PRP: Is there anything else that you would like to add?
Use your residency experience to explore what you're interested in! Whether you want to visit a new city, experience a "starchitecture" firm, or dip your feet into TV news set design – make the most of it. You'll learn something along the way regardless.