PRP Now! Pearlene Cheah // Christoff:Finio
PRP Now! is a series of interviews that highlight a current UTSOA Professional Residency Program student every few weeks.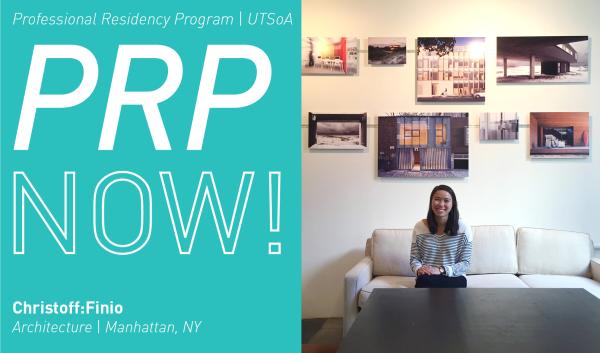 PRP Now! aims to showcase the great experiences students encounter within the Professional Residency Program. PRP offers upper-level architecture students a unique opportunity to expand their education through work experience in the architectural profession. Over the past twenty years, our students have been linked with 260 firms in 29 countries. We will feature a handful of students within each session, graduate and undergrad, domestic and international firms. PRP staff mostly recently had the pleasure to speak with Pearlene Cheah [B.Arch. '16] about her experience.
PRP: Tell us about your PRP firm. Where are you working?
I am working at Christoff:Finio Architecture in Manhattan. It's a small firm that works in both the public and private sector. Projects range from residential work to large-scale institutional buildings across the country. The work is evocative of the modern tradition, prioritizing clean lines, simplicity, and spatial clarity. 

PRP: Do you enjoy the city you're working in? Favorite aspects?
Being in New York is fantastic. Living in Texas my whole life, I've always been fascinated with the idea of living in the northeast region and getting to experience what it means to live in the city. Although Austin has given me some sense of that, it is nothing compared to the scale of New York City. By living in Brooklyn but working in Manhattan, I get the best of both worlds. I'm just a train ride away from so many museums and parks, and only a couple of hours away from many other cities. I love walking around and finding interesting buildings, park or events. It is truly is the city that never sleeps.

PRP: What is currently on your desk? What are you working on?
Currently on my desk are various stacks of drawings and trace for three different projects, a couple of models, my sketchbook, various pens and pencils, a scale, headphones, a glass of water, and snacks. Since my first day, I have been working on construction documents for a four-story museum renovation in Kentucky that has taken up the bulk of my time. More recently I have been helping out on a renovation for a college in Vermont, and when I have the chance I do CA work for a residential house on Shelter Island. Being on the different project teams is fun because I get to work with different scales and solve different problems relating to that design phase.

PRP: Describe the firm culture? The office atmosphere?
Everyone in the firm is wonderful. The atmosphere is friendly and social but also focused and hardworking. I look forward to eating lunch together everyday because the conversations range anywhere from the latest gossip to why toilets flush the opposite direction in the southern hemisphere. I always come away learning something new that I probably would have never thought of. The space itself is filled with lots of natural light, an occasional breeze from the propped open window, and noises from the street below.

PRP: What is the first thing you'll tell your classmates upon your return to UT? 
"I don't know if I can do school this semester." But truly I am grateful that I get the opportunity to not only experience what it is like to work in the architecture profession but also live in a city that I hadn't really considered living in before. Location was one of the biggest factors when I was looking at firms to intern at. I went in knowing even if I don't love the city, it would be a worthwhile experience either way. Not that many people get to say that they have lived in New York, even if it only for half a year.

PRP: As you're finishing up the week, what are your plans for this weekend?
I'm going on a hiking adventure! The train to Cold Springs runs right along the Hudson River and the leaves have started to change. It's going to be beautiful! Other than that, I'm probably going to just keep exploring the city, maybe hit up some museums or Central Park.

PRP: Is there anything else that you would like to add?
Like everyone else has said, do PRP. Step out of your comfort zone.  :)