Q&A with 2021 Design Futures Forum Student Participants
Five students reflect on the 2021 Design Futures Students Leadership Forum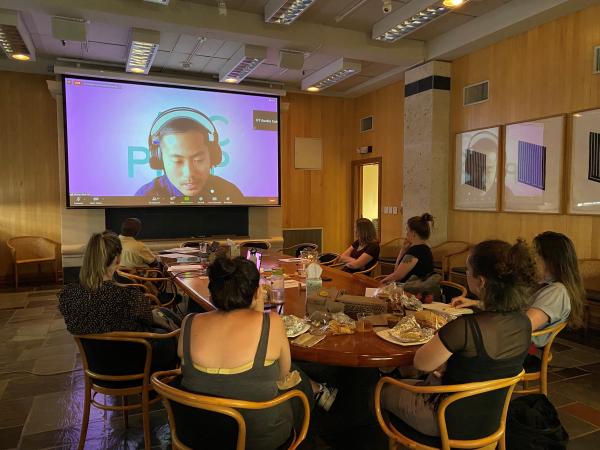 In June, several School of Architecture students participated in the 2021 Design Futures Student Leadership Forum, a leadership development initiative that builds capacity for future leaders to apply the power of community-engaged design to address systemic racism in the built environment. The four-day, interdisciplinary forum—hosted virtually this year by the Taubman College of Architecture and Urban Planning at The University of Michigan—brought students leaders from around the country together, alongside practitioners and university faculty, for interactive workshops, presentations, and discussions about using design as a tool for social equity and positive change.

Since it began in 2013, Design Futures has fostered capacity-building for student leaders to think critically about power, privilege, and positionality in the practice of community-engaged design and to rethink and elevate the role of the designer to address and dismantle systemic oppression in the built environment. Students learn effective community engagement tactics, facilitation skills, along with a critical analysis of systems of oppression, and how to integrate equitable values into projects.

The University of Texas at Austin School of Architecture has had students representing the school at Design Futures since its inception, and Assistant Director of Research Sarah Wu serves as one of the organization's Advisory Board Members.

This year's student attendees included Heather Corcoran (MLA), Carolina English (MLA), Brittany Faulkner (MSCRP, MSUD), and Isabelle Nance (B Arch) from the School of Architecture, as well as Kristen Graham (MFA) from the College of Fine Arts. Following the conference, we caught up with this year's participants to learn more about what they discussed and what they hope to bring back to school this year.
What was the most impactful workshop or part of the conference for you?
Heather Corcoran: Design Futures is an amazing opportunity to not just talk about equitable design engagement strategies but to practice building these skills. Workshops with BlackSpace and Kounkuey Design Initiative provided frameworks for co-imagining and co-designing projects of all scales. The most fun part? A presentation by our future colleagues, the Emerging Voices panel of graduates from Taubman College's ArcPrep program, complete with a Bob's Burger's-themed Zoom backdrop.

Carolina English: For me, the most impactful part of the conference was BlackSpace's Manifesto Framework for Change, led by Ifeoma Ebo and Kyra Assibey-Bonsu. The workshop pushed us to radically imagine the world we wanted to live in. They framed it as "a time-travel exercise for the heart." First, we had to determine who we were speaking to, the stakeholders this engaged, and the physical space this manifesto could inhabit. This led our cohort to develop our own manifestos: One to use within the classroom and one to use on the ground. We are currently figuring out how to bring in the larger UTSOA community to workshop these manifestos!

Brittany Faulkner: The "Creating a BlackSpace Manifesto for Change" workshop was particularly inspiring for me because it demonstrated how design intention can be generated in tandem with community involvement.  The workshop itself presented the 14 principles of their manifesto, and then each of us had the opportunity to role-play how these principles could help shape a public engagement event.  I loved the real-world application of this workshop, and their message of 'design with intention' is something I'll carry with me through my future projects.

Kristen Graham: Something that stuck with me, and I have been thinking about lately, is the community engagement of a design and my role as a designer. It is not my job to make what I think people will need, but instead, have them inform me. They are the experts of their lives, not me.

Isabelle Nance: On This Site with Bernadette Onyenaka was my favorite workshop because it highlighted the history of housing, land, displacement, and policy. I think these are topics we need to talk about more in architecture school. It displayed how unjust policy can displace people from their homes simply for the entertainment and convenience of others, such as clearing a neighborhood for a stadium. The discussion highlighted the importance of recognizing when a large-scale development will be harmful to low-income communities. To many, these developments sound positive, paired with terms like "urban renewal" or "revitalization." But, as designers of the built environment, it is crucial to act against this and ask: who is this revitalization for? Although architecture students must know how to design a building, we also need to be asking questions about the building's context and implications. We need to ask, who is my design serving?
Tell us about one of your biggest insights or overarching takeaways. Anything unexpected or that particularly stood out for you?
Heather Corcoran: The most important thing I'll take away from Design Futures is that change can be driven by joy and love. Longtime activists like Water Warrior Monica Lewis-Patrick demonstrated that fighting for change is an opportunity to build up and celebrate the people around you by finding opportunities for everyone to contribute their skills and to build new ones.  

Carolina English: My biggest takeaway was what I took as the conference's overarching theme: Identifying your proximity to power – both in its oppressive and empowering form. Your proximity will change, depending on the space you are inhabiting, which is why it is an ongoing exercise. We must identify our proximity to power to avoid unintentionally exploiting said power, but also so we can use it to amplify the voices of those who are often silenced. Not to be their voice, but to amplify them. It's also an exercise in finding your own voice! To identify and empower your own agency within these systems. As Liz Ogbu pointed out, the most important question to ask is, "why." Why did you decide on this? Why was x done in this way? By asking "why," you can hold decision-makers accountable – both within an office and within a system. Ultimately, it is an exercise of designing with a group of people rather than for them. 

Brittany Faulkner: I found myself constantly thinking about the different scales of design and how they influence the human body.  I've heard the phrase "human scale" quite a bit in my courses at UT, but the context of Design Futures had me step back and consider how the built environment influences how people interact with one another.  Design plays a critical role in determining the dynamics of a space – who feels welcome and who is excluded – and I think we need to consider more of that when designing projects, no matter how big or small.  

Kristen Graham: One of the biggest takeaways for me was understanding how complex identities can be. As a designer, you have to be aware of how and what kind of impact your work will have on people. At Design Futures, we discussed tools that could get to root causes so a design can be successful. We talked about ways to engage with community members at every level of the design process, not just in the testing or at a single co-creation session.

Isabelle Nance: My biggest insight was the emphasis on health. We discussed how designers should practice physical and mental health since the field is often high pressure. We were also encouraged to consider health in the design process by asking: "How can we use design to heal communities." Understanding design as a healing tool shifted my perspective of how to think when I'm designing. Design Futures let us practice this tool by holding workshops that touched on proper community engagement and ethics. There was a constant emphasis on letting the community decide what they need since, after all, they are the ones with the most experience in their communities. As designers, we can give people the resources they need to create a space of healing. This can mean helping a community that lacks a basic right such as water, as discussed in "Whose Water? Our Water! Fighting for safe and affordable water in Detroit and beyond." Everyone deserves the ability to navigate life in a healthy space.
 
How will you bring back what you learned at the conference to your work and UTSOA?
Heather Corcoran: I'm so excited to share these experiences with all of our colleagues at UTSOA. Stay tuned for ways to get involved in the fall, when our 2021 Design Futures cohort will be asking our student community to come together to imagine a framework for a more equitable and supportive community at Goldsmith Hall and in our future careers.

Carolina English: Our cohort is working on a manifesto that we hope to bring back to and work on with the UTSOA student body. This manifesto will include takeaways from Design Futures, but we want it to be influenced by other students' experiences as well. We hope to bring these conversations back to campus in a meaningful, sustained way. Personally, I know what I learned will inform all my work moving forward. How could it not? When talking with Franny Kyle, from the 2020 cohort, about her experience, she described it as a seed, sprouting up and taking form as more time passes. I completely agree with this. I have found myself unexpectedly referring to ideas formed at Design Futures in so many conversations and projects since then!   

Brittany Faulkner: Every experience I had at Design Futures was constantly challenging me to think about who the built environment is catering towards – either intentionally or otherwise – and how I can use design as a tool to disrupt oppression and injustice.  The physical attributes of these spaces greatly influence how people respond to their environment, and I plan to integrate this mindfulness into my future work as a planner and designer.  But it doesn't stop with me. I hope to spark conversation and challenge my classmates to consider who their projects are catering to and how they can create meaningful spaces that accommodate everyone.

Kristen Graham: As a student of the College of Fine Arts, I plan to take what I have learned from the forum and share it with my small cohort. I also hope to be a mentor to new incoming students in my graduate program. Since I am not a part of UTSOA, I'm excited to reach across departments and help collaborate with other students to help create a standard of design at UT.

Isabelle Nance: I want to encourage myself and others to rethink what a design can be. Treating design as a tool for everyone can be helpful and can transform the field into something more horizontal and communal. In studio, I hope to encourage my peers to reevaluate their role as designers by shifting the power to the community in which a specific design serves/affects. As a design school, we need to encourage a deeper understanding of how the built environment has intentionally harmed BIPOC communities and how it is still actively doing harm. However, we should also talk about how the built environment can be a powerful tool of healing. I hope to encourage an open discussion about how we can most effectively collaborate with the community that we are serving. Overall, understanding the built environment's complexities/history as it relates to communities is something that we need to consider more in the design process. I hope that my Design Futures peers and I can actively encourage this thinking this next year and beyond.