Spring 2021 Lecture Series
With speakers hailing from across the globe, the Spring 2021 lecture series represents an exciting range of contemporary voices and international perspectives.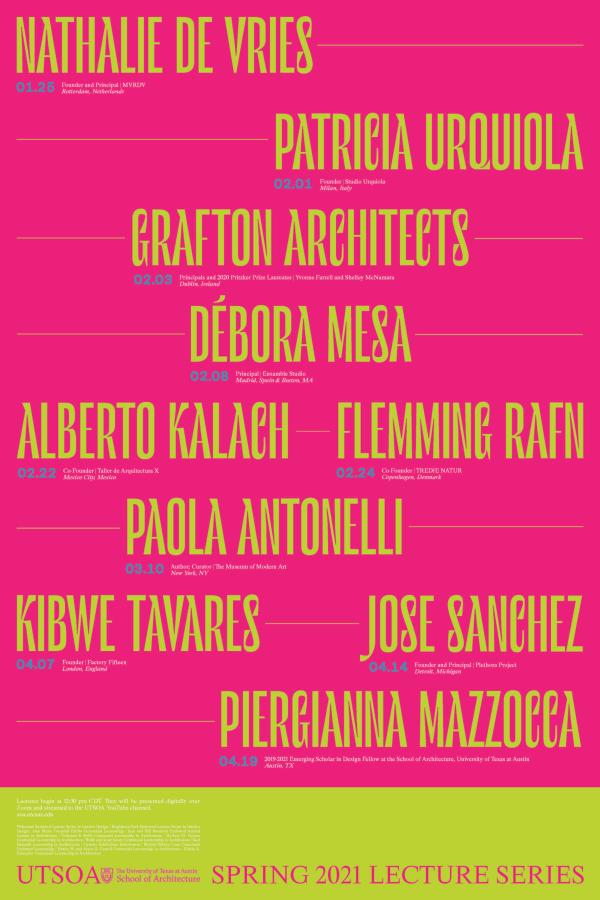 The University of Texas at Austin School of Architecture is pleased to announce its Spring 2021 Lecture Series. With speakers hailing from across the globe, this semester's lineup represents an exciting range of contemporary voices and international perspectives. Featuring a new, dynamic slate of speakers each semester, the School of Architecture's lecture series plays an integral role in fulfilling the school's commitment to fostering lively intellectual curiosity and the open exchange of ideas.  
 
Starting Monday, January 25, and continuing throughout the semester, lecturers representing a broad cross-section of cultural practices—including Pritzker Prize Laureates, video game designers, filmmakers, and beyond—will present talks that push the traditional boundaries of the design disciplines, address some of society's most pressing challenges, and help us reimagine the relationship between ourselves, design, and the world around us.  
 
Guest lecturers in the series include: Nathalie de Vries, Patricia Urquiola, Yvonne Farrell and Shelley McNamara of Grafton Architects, Débora Mesa, Alberto Kalach, Flemming Rafn, Paola Antonelli, Kibwe Tavares, Jose Sanchez, and Piergianna Mazzocca. All lectures are free and open to the public and will be conducted virtually via Zoom. All lectures will be live-streamed on the Texas Architecture YouTube channel starting at 12:30 p.m. Central Time.
 
For more information about the Spring 2021 Lecture Series, visit https://soa.utexas.edu/life-work/events.
MONDAY, JANUARY 25 AT 12:30 PM
"Multiplicity in Design as an Attitude"'
Nathalie de Vries – MVRDV, Rotterdam
Nathalie de Vries is a co-founder, principal architect, and urban designer at MVRDV, an interdisciplinary studio that works at the intersection of architecture and urbanism. Since 1993, the award-winning Dutch practice has established an international identity with a wide variety of building typologies and scales that are self-generated, innovative, experimental, and theoretical. Over the past twenty-five years, de Vries has created a diverse body of work in a variety of scales and typologies, grounded in connecting individuals, communities, and environments. In addition to her work for MVRDV, de Vries engages as Professor of Architectural Design at the Delft University of Technology, and she served as president of the Royal Institute of Dutch Architects BNA between 2015–2019. In her lecture, "Multiplicity in Design as an Attitude," de Vries will explore ways in which designers can work towards a more productive, transformative, and resilient built environment through the practice of the everyday.
 
MONDAY, FEBRUARY 1 AT 12:30 PM
"In Conversation with Patricia Urquiola"
Patricia Urquiola – STUDIO URQUIOLA, Milan
Working across different scales and disciplines, Patricia Urquiola's career spans from architecture to design, art, curatorship, art direction, and strategy consulting. Empathy, life-long research, changing perspectives, experimentation, and constant dialogue have traced her professional path, through which she has always kept in mind the essential relationships between spaces, objects, and the final user. Creating links between craftsmanship and industrial research, heritage, and innovation, Urquiola also drives the companies she works with to upcycle once-wasted material and re-imagines the entire processes leading to change and evolution. In her lecture, Urquiola will explain how her practice has evolved and expanded, and how her work not only deals with products and architectures, but also explores the possibilities of the future of mobility, workplace, and production cycles.
 
WEDNESDAY, FEBRUARY 3 AT 12:30 PM
Yvonne Farrell and Shelley McNamara – Grafton Architects, Dublin
Yvonne Farrell and Shelley McNamara co-founded Grafton Architects in 1978 after meeting at the School of Architecture at University College Dublin. Farrell and McNamara were named the 2020 Laureates of the Pritzker Architecture Prize, becoming the first two Irish citizens, as well as the fourth and fifth women, to win the prestigious award. As stated by the Pritzker Architecture Prize jury, the partners "have consistently and unhesitatingly pursued the highest quality of architecture for the specific location in which it was to be built, the functions it would house and especially for the people who would inhabit and use their buildings and spaces." In 2018, Farrell and McNamara were Curators of the Venice Architecture Biennale, and their practice has won numerous awards, including the inaugural RIBA International Prize for the Universidad de Ingenieria y Tecnologia (UTEC) in Lima in 2016, and the 2020 RIBA Royal Gold Medal in London. Farrell and McNamara hold longstanding appointments at University College Dublin and have taught at universities around the world. They are currently professors at the Accademia di Architettura in Mendrisio, Switzerland.
 
MONDAY, FEBRUARY 8 AT 12:30PM
"Ensamble Studio: On-Site Off-Site"
Débora Mesa Molina – Ensamble Studio, Madrid
Débora Mesa Molina​ is a European licensed architect and principal of Ensamble Studio, a cross-functional team she leads with her partner, Antón García-Abril. Balancing imagination and reality, art and science, their work innovates typologies, technologies, and methodologies, and every project makes space for experimentation and aims to advance the field. Through their start-up ​​WoHo​​ they are currently developing ways to increase quality and affordability in architecture through the integration of offsite technologies. In her lecture titled "Ensamble Studio: On-Site Off-Site," Mesa proposes an immersion into the processes of conception and realization of the firm's work. She will address topics as diverse as the construction of the landscape and the prefabrication of the house, revealing how technologies are at times appropriated, at times invested, and at-all-times creatively utilized in service of architecture.
MONDAY, FEBRUARY 22 AT 12:30 PM
Alberto Kalach – Taller de Arquitectura X, Mexico City
Cited as one of the most versatile and prolific architectural voices in Mexico City today, Alberto Kalach works collaboratively, completing projects from residential commissions to civic structures with firms and contemporaries such as Teodoro González de León, Juan Palomar, Tonatiuh Martinez, Gustavo Lipkau, and José Castillo, among others. His award-winning José Vasconcelos Library in Mexico City remains the largest public library in Latin America. Kalach's concern for the emerging problems of his vast native city has inspired projects at a range of scales, from his minimal, $5,000 houses to housing developments and urban master plans. At TAX, Kalach and his team are devoted to transcending the unavoidable geographic, economic, and temporal constraints ingrained in every project to turn them into opportunities to build solutions that respect and celebrate the environment and its cultural context.
 
WEDNESDAY, FEBRUARY 24 AT 12:30 PM
"Nature Strikes Back: A New Design Ethos for the Climate Responsive City"
Flemming Rafn – TREDJE NATUR, Copenhagen
TREDJE NATUR (Third Nature) calls its projects humane solutions to man-made problems. The architecture office explores the territory between plan, infrastructure, building, and nature. This optimistic yet critical approach lends itself to innovative proposals for new building typologies and urban natures that are developed with a deep understanding of the city's metabolism, and the pragmatics of the architectural gameplay and profession. In his lecture "Nature Strikes Back: A New Design Ethos for the Climate Responsive City," co-founder and partner Flemming Rafn will introduce TREDJE NATUR's major works to illustrate how a coherent and optimized design creates powerful and sustainable solutions for the city as a whole, but also adds to the sensitivity to individual spaces, places, and the people. Through examples of TREDJE NATUR's work, Rafn will show how they redesign cities to deal with the climate crisis and make the most of a sticky situation.
 
WEDNESDAY, MARCH 10 AT 12:30 PM
"There Is Always a Design Emergency"
Paola Antonelli – Museum of Modern Art, New York City

Paola Antonelli is Senior Curator at The Museum of Modern Art in the Department of Architecture & Design, as well as MoMA's founding Director of Research & Development. Her most recent exhibition, Neri Oxman: Material Ecology, opened at MoMA in February 2020. She is currently working on an iteration of Broken Nature that will be on view at MoMA starting in the fall of 2020, and on @design.emergency, an Instagram and book project on the role of design in response to the COVID-19 pandemic, in collaboration with critic Alice Rawsthorn. Just like there are many ways to be a designer, there are also many ways to be an activist designer. From the Mexico/U.S. border to the streets of Cairo; from an intensive care unit to a video game screen; and from objects to global infrastructures, designers are highlighting their presence and their important role in shaping social and political progress
 
WEDNESDAY, APRIL 7 AT 12:30 PM
Kibwe Tavares – Factory Fifteen, London
Kibwe Tavares combines his training as an architect with his love of storytelling and animation to create futuristic 3D-animated and live-action films with social and political depth, inventing detailed, vivid, and kinetic visual environments. His first short, Robots of Brixton (a thesis project for his master's degree at Bartlett UCL), was awarded the Sundance Film Festival Special Jury Award and the 2011 Royal Institute of British Architects Presidents Medal. Fast Company named him one of the "100 most creative people in business" and he was invited to speak at TED London in 2018. Tavares is a founding member of Factory Fifteen, a design-led creative studio that uses animation, visual effects, and emerging technologies to understand and explain the built environment. With work that spans narrative film, advertising, and architectural projects, Factory Fifteen has worked with high-profile brands including Formula 1, Samsung, Film 4, and The British Film Institute.
 
WEDNESDAY, APRIL 14 AT 12:30 PM
"Platform Realism"
Jose Sanchez – Plethora Project, Los Angeles
Jose Sanchez is an architect, game designer, theorist, and director of the Plethora Project, a research studio investing in the future of the propagation of architectural design knowledge. He is the creator of the video games Block'hood and Common'hood, digital social platforms that aid non-expert audiences in architectural and ecological thinking. Common'hood is an architecture modeling and simulation game mediated by scarcity and social struggle. The game foregrounds labor and inequality as a setting for community organization, self-sufficiency, and the production of self-provided architecture. Sanchez is author of Architecture for the Commons: Participatory Systems in the Age of Platforms (Routledge, 2020) and the co-creator of Bloom, a crowd-sourced interactive installation and winner of the Wonder Series hosted by the City of London for the 2012 Olympics. He is an Associate Professor at the Taubman College School of Architecture at the University of Michigan. His research designs and interrogates social media platforms as tools with the potential to author architectural content in the public domain.
MONDAY, APRIL 19 AT 12:30 PM
"Good, Well, and Better"
Piergianna Mazzocca – Emerging Scholar in Design Fellow, Austin
Piergianna Mazzocca is an architect, researcher, and educator. Her research interests expand on the medicalization of architecture through the study of both domestic and medical typologies and the formation of architectural knowledge through its relationship with medical sciences and biopolitics. She was the 2017–2019 Wortham Fellow at Rice University and is currently the Emerging Scholar in Design at The University of Texas at Austin. In her lecture "Good, Well, and Better," Mazzocca will unpack how concepts of health are ingrained in the ways that architectural knowledge is produced and reproduced, practiced, and theorized, and what new pedagogies for architectural education can emerge when the concepts, norms, and practices that have been rendered invisible by the assumption that health is a monolithic universal good are questioned.