Spring 2023 Visiting Faculty
Joining us are Dwayne Oyler and Jenny Wu, Alex Schweder, Jonathon Anderson, and Dr. Nelly Robles Garcia.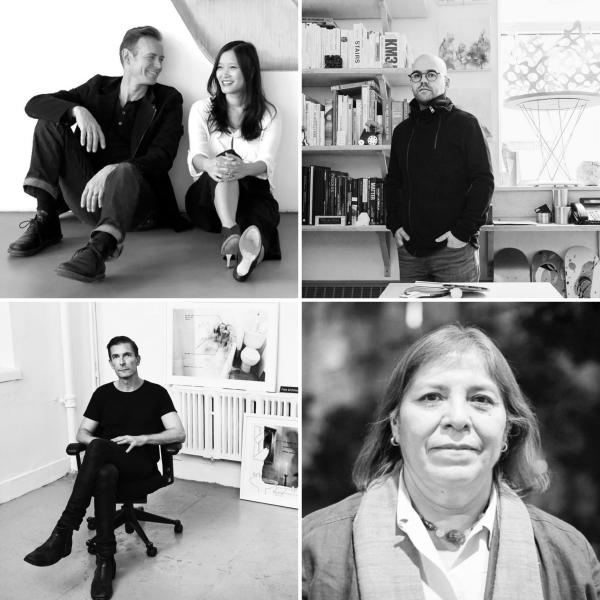 We are excited to introduce this semester's slate of visiting faculty teaching at The University of Texas at Austin School of Architecture this spring. 
Dwayne Oyler and Jenny Wu will serve as the Ruth Carter Stevenson Regents Chair in the Art of Architecture and will be teaching an Advanced Architecture Studio entitled "Puzzling Forms of Assembly."
Dwayne Oyler and Jenny Wu established the architecture and design firm Oyler Wu Collaborative in Los Angeles in 2004. The firm is recognized for its experimentation in design, material research, and fabrication and has won numerous awards, including the 2021 American Academy of Arts and Letters Award in Architecture, the 2017 J. Irwin and Xenia S. Miller Prize, and the 2013 Design Vanguard Award from Architectural Record. Both Oyler and Wu are also members of the design faculty at SCI-Arc. Students in Oyler and Wu's studio this semester, taught in collaboration with Paul Germaine McCoy, will consider various methods of assembly that allow for a transference between different types and scales—exploring relationships between elements and moving between scales of thinking that upset the typical ways we move through spaces.  
Alex Schweder will serve as the Dr. Nancy Panak Kwallek Endowed Chair in Design & Planning and will be teaching an Advanced Architecture and Interior Design Studio titled "Engorged Interiors."
Dr. Alex Schweder works with what he calls "Performance Architecture" through exhibitions that explore the relationships between subjectivity and space. The term, and ensuing practice, conceptualizes architecture as a mechanism that both gives cues for how we should behave and offers itself as a prop for us to form and perform our identities. Schweder's work has been exhibited and collected internationally, including at the Museum of Modern Art, Tate Britain, Performa 17, the Tel Aviv Museum of Art, the San Francisco Museum of Modern Art, and the 2014 Venice Architecture Biennale. Schweder's studio this semester, taught in collaboration with Amy McDonnold, will consider the unfamiliar architectural possibilities that can be accessed through inflatable environments.
Jonathon Anderson will teach an Advanced Architecture and Interior Design Studio entitled "Machine + Material Processes: Experimental Furniture/Objects."
Jonathon Anderson is an Associate Professor of Interior Design and the Director of the Design + Technology Lab in the Creative School at Toronto Metropolitan University. Anderson's work explores how industrial manufacturing and CNC technologies influence the design and making processes. His work is characterized by innovative and explorative methods that result in interconnected design, fine art, and technology solutions. Students in Anderson's experimental design/make studio will produce furniture/objects that explore how digital fabrication tools can transcend their traditional roles to become part of the toolset available for the production of crafted and bespoke work.
Dr. Nelly Robles Garcia will teach a history elective titled "Pre-Columbian Architecture of Mexico" as a Fulbright Visiting Scholar through the United States-Mexico Commission for Educational and Cultural Exchange (COMEXUS).
Dr. Nelly Robles Garcia is an expert in archaeological studies in Oaxaca and a pioneer in archaeological heritage management. She is a researcher for the National Institute of Anthropology and History (INAH) of Mexico and the director of the Atzompa Monumental Architectural Project in Oaxaca. In Mexico, she is widely known for her work on sites such as Mitla, Monte Albán-Atzompa, the Yagul Prehistoric Caves, and recently with the sites of the Cañada Cuicateca in the Valle de Tehuacán-Biosphere Reserve. This is the first time the school has offered a course focused on Pre-Columbian Architecture, which will cover the ancestral roots of the forms, functions, materials, and symbolism of the architecture of the original peoples of Oaxaca.