Students win ACSA 2022 Habitat Design Competition
The project, Tilt by Stella Coble and Michelle Powell, aims to create a denser, more sustainable, and more durable housing alternative that will remain flexible throughout shifting demographic and climatic realities.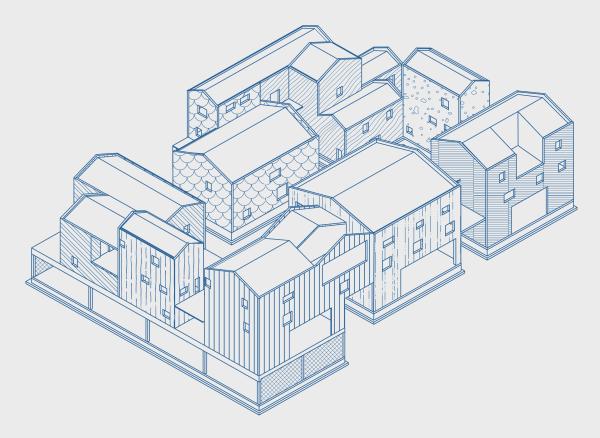 Congratulations to Master of Architecture students Stella Coble and Michelle Powell whose project Tilt was named the Central Region Winner of the Association of Collegiate Schools of Architecture's 2022 Habitat Design Competition: Climate Positive Concrete Housing. In partnership with Habitat for Humanity International and the National Ready Mixed Concrete Association, ACSA's competition challenged students to explore innovations and tools to improve climate conditions with concrete building materials. The competition drew more than 500 participants from 23 colleges and universities across North America and only four projects received awards, one per region.
 
Completed in Lecturer Martin Hättasch's Spring 2022 Integrative Design Studio, Coble and Powell's project was "selected for the project's clarity in the overall design, which is presented through a series of investigations." Elaborating on the project's strengths, the jurors note: "It is a sophisticated design that walks you through the environmental conditions in relation to the site, the inhabitants, and the materials focus of this competition, namely concrete. The design also references how concrete can be deployed for residential construction using tilt-up construction."
 
Architects are in a unique place to envision innovative solutions to the housing crisis and address the impacts of climate change through the design of the built environment. Competition entries were judged on their successful inclusion of low or negative embodied carbon strategies in materials and construction processes, as well as creative design concepts that support affordable housing.
 
Big congratulations to Stella and Michelle on the win, and to Hättasch on a continued track record of national recognition.
 
Project Description:
Bridging the historically residential areas of Austin and the new industrial development on the east side of the city, Tilt mirrors the city's dichotomous urban condition through its construction methods of traditional wood framing and efficient tilt-up concrete. On a large scale, its concrete façade provides uniform material permanence that reinforces the building as a whole; on the unit scale, the building offers a high degree of uniqueness for each tenant, with private terraces, a variety of layouts, and distinct formliner patterns embedded into the concrete.
 
Tilt bridges many previous housing precedents, creating a hybrid typology. It draws inspiration from historic breezeways in dogtrot houses and shared shear wall construction in row houses while maintaining traditional townhouse density. But rather than acting as a linear row, Tilt has much more variety in its geometry, allowing for different unit types, levels of privacy, and a variety of views. The T and L-shaped units create privacy for outdoor rooms, while open patios and the overall orientation of the cluster optimize cross breezes. Learning from vernacular dogtrot homes, its form allows for breezeways and covered outdoor porches. With 10 residential and 3 commercial units that encapsulate a shared courtyard, the project argues for more dispersed amenities and a greater mix of uses in suburban neighborhoods.
 
The main idea was not to create super high-density units, but rather to appeal to multi-generational homes and to less-conventional households where individuals work from home or want to have their businesses operate in the same building where they live. Many of the units have ample space to add an extra bedroom or convert an area or even an entire floor to a workspace. Additionally, because of the project's close proximity to a future light rail station, the covered parking was designed with the hope that it can be converted into another commercial or studio space when personal vehicle parking is not needed.
 
The landscape design also reflects the goal of longevity. The design proposes both native and adapted plants that are drought-resistant, low maintenance, and have a wide variety of colors and textures. They preserve water resources and will attract pollinators. As the city gets hotter and dryer in the coming years, these plants will continue to do their part in the ecosystem, filtering rainwater, absorbing carbon dioxide, and minimizing the heat island effect.
 
On a material level, concrete panels are made from liquid waste carbon injected concrete and minimize the amount of cement emissions with clinker partially substituted with raw limestone to lower its carbon footprint. In addition to concrete tilt-up panels, the project also uses concrete in precast structural tees and cast-in-place foundations and slabs. It also uses corrugated roofing made from 100% recycled products and terracotta clay blocks, sourced from San Antonio, which are used in the garage breezeway.
 
Overall, the project aims to create a denser, more sustainable, and more durable housing alternative that caters to a population that typically would buy a single-family home, and will remain flexible throughout shifting demographic and climatic realities.