UTSOA Hires Experts on Race and Gender in the Built Environment
Edna Ledesma and Miriam Solis will lead UTSOA's Race and Gender in the Built Environment Initiative...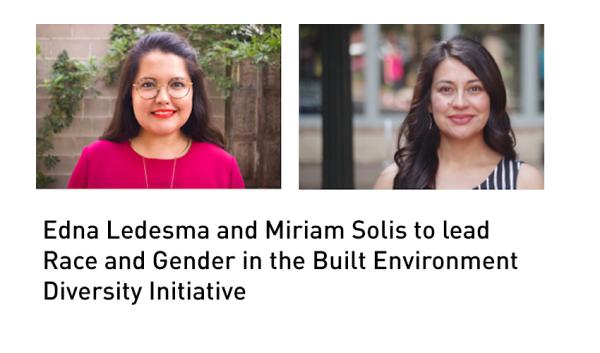 The School of Architecture continues to build its Race and Gender in the Built Environment Initiative with new faculty appointments. Edna Ledesma will join the school as a fellow for the 2017-18 academic year, and Miriam Solis will begin her appointment as an assistant professor in Fall 2018 after completing a Switzer Environmental Fellowship at the University of California, Berkeley.

Established in Fall 2016, the School of Architecture's Race and Gender in the Built Environment Initiative facilitates diversity among design and planning professionals and students and fosters innovation in teaching and research on race and gender-related inequities in American cities. Partially funded by UT Austin's Division of Diversity and Community Engagement, the program positions the university at the forefront of addressing these critical and complex issues in architecture and community and regional planning pedagogy and practice.

"Diversity, both in terms of who we are and whom we serve, is one of the core priorities of the School of Architecture as we strive to advance a more just and equitable built environment," stated Dean Michelle Addington. "A key step forward is establishing a robust discourse by bringing together outstanding scholars. Our community will greatly benefit from the expert perspectives and research of Edna Ledesma and Miriam Solis, and we look forward to working together to broaden our curriculum and expand the worldview of our students."

Solis specializes in environmental planning, with a specific focus on social justice, infrastructure, and sustainability. One of her current projects examines how adversely affected low-income communities and communities of color contest and shape infrastructure development and maintenance programs in cities. She will come to UT Austin with a PhD in City and Regional Planning from UC Berkeley, where she was also a Chancellor's Fellow, as well as a Master of City Planning from MIT and Bachelor degrees in Geography and Ethnic Studies from UC Berkeley. Solis was named a 2017 Switzer Fellow by the Robert and Patricia Switzer Foundation in recognition of her achievements as an environmental leader and her potential to drive positive change.
"As public discussions about race and gender intensify, I am inspired by the UTSOA community's commitment to advance teaching and research on these topics," remarked Solis. "I look forward to collaborating with my student and faculty colleagues to center diverse communities and social justice. Because my pedagogical approach is guided by the belief that students are current and future actors in shaping the world around them, I anticipate that this work will lead to innovative inquiry and more equitable practice."

Ledesma's research focuses on understanding development and forecasting the evolution of the smart, green, and just twenty-first century city, taking into account cultural landscapes of immigrant populations and micro-economies. Her methods are people-oriented and centered on community engagement, proposing applicable real-world solutions in architecture and urban design. Ledesma holds a PhD in Urban and Regional Science from Texas A&M University, a Master of Science in Urban Design and Master of Architecture-First Professional from UT Austin, and a Bachelor of Environmental Design from Texas A&M. Her dissertation investigated the marginalization of Latino voices in contemporary Texas and California cities through a study of markets and Latino places. Ledesma has received two awards from the Texas Chapter of the American Planning Association (APA) and a national APA award for her research on community engagement along the U.S.-Mexico border. She currently serves as a lecturer at the UT Austin School of Architecture, and mentored UT Austin's first place graduate student team in the national Urban Land Institute Hines urban design competition this year.
"Through this initiative I am excited to be partnering with the city of Brownsville to continue my research on Latino places and social justice," said Ledesma. "This Fall semester we are collaborating on an interdisciplinary design studio/planning practicum that will explore the potential conversion of an eight-mile abandoned railroad corridor into a new city place, a current live rails-to trails project, in an effort to help inform the future of the social, ecological, and economic fabric of South Texas."

While advancing research and the implementation of key findings, Solis and Ledesma will train the next generation of planners and designers to promote a more healthy, safe, fair, and equitable environment through their work.

Ledesma and Solis replace scholars Anna Livia Brand and Andrea Roberts, who launched the initiative with action-oriented research and studio courses during their one-year fellowship appointments.