What Starts Here: Highlights from Career Fair
Hundreds of students, employers, and alumni build connections as students explore internship and employment opportunities at the 2023 Career Fair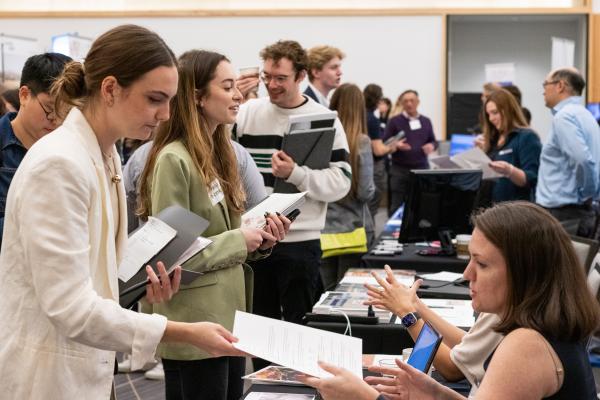 The energy in the Zlotnik Family Ballroom during The University of Texas at Austin School of Architecture's annual Career Fair is almost palpable. Hundreds of students are dressed in their professional best as firms set up in row after row of booths, and the chatter of professional connections fills the 1,600-capacity space.
This year's Career Fair sold out in record time, with 106 employers in attendance and a waitlist of firms clamoring to connect with School of Architecture students. Employers run the gamut of the disciplines of the built environment, from local planning organizations and public utilities to architecture and interior design studios with offices around the world. This year, almost 30% of employers came in from out-of-state, while many in-state firms were recruiting for offices nationwide, and even internationally.  
"Every year, I am blown away by this event," said Michelle Addington, dean of the School of Architecture. "Every firm I speak with is fighting to get our amazing students, and so many of our alumni come back to recruit and share their own paths and excitement about the firms where they are practicing."
For many alumni, Career Fair is an opportunity to reconnect with their alma mater. Alums practicing everywhere from Portland to New York City return to campus to meet the next generation of architects, designers, preservationists, and planners and to create connections that will launch students' futures. 
"As returning alumni it is rewarding to see and discuss current UTSOA students' work and be reminded why this program is consistently ranked among the top architecture schools in the nation," said Minh K. Tran (B Arch '07) who represented Ennead Architects this year with Kristen Alexander (B Arch '07). "We look forward to participating in the career fair each year, continuing our long relationship with the UTSOA." 
Led by Julie Latcham, our Career Services office has an amazing track record of student employment and job placement, with 95% of the 2021 graduating class reporting that they found a job within six months of graduation. In addition to Career Fair, Career Services hosts a range of events throughout the academic year, including firm meet and greets, networking events and workshops, as well as providing one-on-one guidance to students on everything from resumes and portfolios to salary negotiation.
"Having the opportunity to talk to professionals is really enlightening, and after the fair, I feel like I know so much more about what's actually out there," said interior design student Eamanne Moharram (BSID '24). "I'm excited to continue talking to the people I met and interviewed with and to see about interning this summer or working with them in the future."
"I love seeing employers and alumni come back year after year to recruit our students, not to mention the increase in employers interested in participating each year," Career Services' Director Julie Latcham said. "It speaks to how in-demand our graduates are, as well as the quality of the education they receive at UTSOA."