A WITNESS TO HISTORY: Battle Hall and the Past, Present, and Future of the School of Architecture
A vision of excellence for a young, growing campus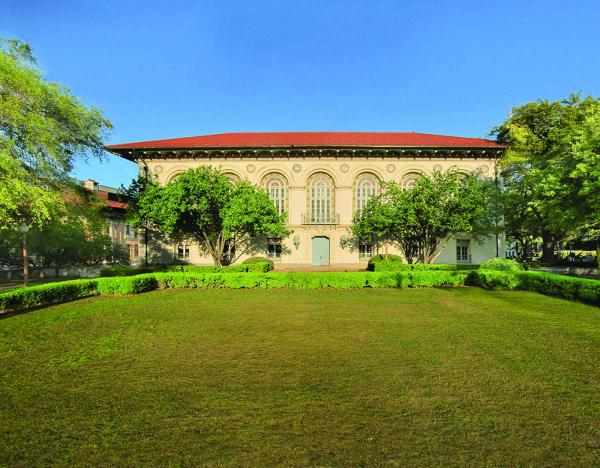 Battle Hall stands proud as the most architecturally significant building on the University of Texas campus. Designed by renowned Beaux Arts architect Cass Gilbert as the university's first purpose-built library, it was also the first building on campus to employ the modified Spanish Renaissance style that later became the signature motif of the Forty Acres.

Battle was an aspirational building for the fledgling UT campus at the turn of the 20th century — a manifestation of the university's early commitment to creating an environment that would inspire excellence. In 1909, the library area of Old Main, UT's principal academic building, was overcrowded. Students needed larger and more diverse collections of library materials and more space in which to study. The time had come to build a freestanding library building worthy of the "university of the first class" envisioned by the Texas Constitution.

In selecting Gilbert, UT President Sidney Edward Mezes sought more than competency and a familiar name. The campus, like Old Main, was suffering growing pains. Its haphazard collection of eight buildings was inadequate and failed to project an enduring image for the institution. Gilbert was more than up to the task of creating such images, and the university charged him to design a comprehensive development plan for the campus. The new library was to be the first component.

Appointed university architect in 1910, Gilbert held the position until 1922. Unfortunately, limited funds prevented the implementation of his master development plan beyond the construction of the library (Battle Hall), completed in 1911, and the Education Building (today's Sutton Hall, built seven years later). Nevertheless, these two buildings established a new UT standard of architectural quality, an expressive character, and a vocabulary of building materials that informed and inspired the university architects who followed, notably Herbert M. Greene and Paul Philippe Cret.

Today, Battle Hall's significance extends far beyond campus, as reflected in the building's listing in the National Register of Historic Places and its selection as one of America's Top 150 Favorite Works of Architecture by the American Institute of Architects.

Step inside the building and its vaulted halls draw you upstairs to the prize within: an expansive reading room that has long been a favored study area for discerning students. With that grand space and its voluminous library stacks, Battle Hall has always played a significant role in the life of UT, hosting deans' and presidents' offices and Texas cultural giants such as folklorist J. Frank Dobie and sculptor Charles Umlauf. 

Having been put into service over the years not only as a library and archive but also housing art studios, Board of Regents meetings—even the Longhorn Band—it's fair to say that these various incarnations have taken a collective toll. A rehabilitation of Battle Hall is long overdue.
 
CASS GILBERT: AN AMERICAN ORIGINAL
Gilbert (1859-1934) was a son of the Upper Midwest who had been working professionally since the 1880s and was one of the nation's most celebrated architects when UT leaders gave him carte blanche to build a new main library. Known for designing public spaces such as museums and railroad stations, the Ohio native drew acclaim for his Minnesota State Capitol and went on to cement his reputation with such influential works as New York City's Woolworth Building, the world's tallest for a time, and the United States Supreme Court building in Washington, D.C. Recognized and celebrated by his peers, Gilbert was elected to the National Academy of Design and served as its president.
 
A LIVING LABORATORY FOR ARCHITECTURE AND PLANNING
The School of Architecture enjoys top-tier status in part because of its enviable facilities and resource centers. Battle Hall houses three of the school's key elements:

The Center for American Architecture and Design is a leading hub of scholarship on architectural history and theory, providing scholars, practitioners, students, and the public with opportunities to examine contemporary and historical issues in architecture and design. The center stages national symposia, supports independent research and scholarship, and sponsors exhibitions, books, seminars, forums, films, and lectures to raise public awareness of the possibilities for economic growth and enhanced human welfare posed by higher design standards.

The Architecture and Planning Library supports the school's curriculum with more than 100,000 volumes and hundreds of periodicals. Filling five floors of stacks, the library also serves the academic and research needs of scholars in the disciplines of art history and American studies and is an important resource for architecture and planning professionals, who can delve into topics such as historic preservation, building technology, community and regional planning, and sustainable design.

The Alexander Architectural Archive supports research and education on the history of the built environment and related design disciplines. As a repository
of material preserved to enrich and serve our architectural heritage, the archive consolidates nearly 150 separate collections reflecting the lives and works of architects, landscape architects, planners, designers, preservationists, historians, professors, and businesses in the
industry. Holdings include all types of documents involved in the management of a firm, many of which trace the development of a design through the finished product.

The adjacent West Mall Building complements what Battle Hall offers with two additional centers:
The Center for Sustainable Development is the major source of funded research in the school. With a mission to lead the study and practice of sustainable development through complementary programs of research, education, and community outreach, the center is unique in its integration of diverse interests to develop creative, balanced, achievable solutions to the physical and social challenges facing the planning, construction, and preservation of buildings, neighborhoods, and regions.

The University Co-op Materials Resource Center is a one-of-a-kind collection of new and emerging building materials and technologies. One of the largest and most comprehensive material collections of its kind at any college or university in the country, if not the world, it is used widely by professionals in practice, bringing patrons and prestige to the school. With better space allocations, many additional materials could be collected and curated.

Battle Hall and the West Mall Building are physically connected but lack shared interior circulation. Improvements and upgrades would combine their interior hallways into a vibrant complex that drives excellence at the school.
 
MILESTONES IN THE LIFE OF BATTLE HALL
1911 — Opens as the university's main library
1933-38 — Main library moves to new UT Tower, various offices move in
1938-48 — Fine Arts Department uses Reading Room for art studios, drama rehearsals, Longhorn Band
1950 — Texas State Historical Association occupies first floor
1962 — West Mall Building completed
1970 — Placed on National Register of Historic Places
1973 — Name changed from Old Library to Battle Hall to honor past UT president William J. Battle
1979 — Becomes part of School of Architecture, houses Architecture and Planning Library
2007 — Named one of America's Top 150 Favorite Works of Architecture by the American Institute of Architects
BATTLE HALL & WEST MALL: A SUM GREATER THAN ITS PARTS
When the campus post office, currently in the lower southern end of the West Mall Building, relocates in 2016, a loading dock and nondescript parking area will make way for an attractive addition along Inner Campus Drive. A proposed naming of this West Mall addition, which also will face the well-used pedestrian conduit between the building and Goldsmith Hall, would honor the late John S. Chase, the first African American to enroll at UT and the first African-American registered architect in Texas.

The West Mall Building renovation provides opportunities to safeguard and celebrate the historic architecture of Battle Hall by concentrating infrastructure upgrades into West Mall. Along with the Chase addition, the refurbishment of West Mall encompasses several important aspects that collectively will have an enormous impact on the School of Architecture:

New studios will relieve pressure and space constraints that affect teaching, learning, and on-time graduation rates. Currently, up to four instructors share each studio space, and this still does not meet the demand. Additional studio space will also support new and emerging graduate programs in landscape architecture and interior design, as well as foster a culture of design and making.

A new lecture hall, gallery, and student lounge will enrich the student experience and strengthen the school's sense of community, while flexible spaces will allow the school to respond to facility demands for architectural education and research in such areas as design-build activities, public-interest design, and space-intensive experiments.

Improved archive facilities will enhance efforts to preserve materials while increasing their visibility and usability by visiting scholars. The Alexander Architectural Archive, for instance, will have much greater visibility and access for scholars.

Additional laboratory space will be key to the school's advancing research portfolio in the future. As the design profession becomes increasingly informed by science, the school must take on a larger role in sponsored research. This requires adequate and flexible laboratory spaces near studios, the library, and faculty offices.
 
JOHN S. CHASE, FAIA: A TEXAS PIONEER
John Saunders Chase, Jr. (1925-2012) was the first licensed African-American architect in the state — and the only one for nearly a decade. Among a number of other impressive firsts, Chase was the first African American to enroll at The University of Texas and, years later, the first to be president of the Texas Exes alumni group and to serve on the U.S. Commission on Fine Arts. Born in Annapolis, Maryland, he was a decorated soldier in World War II and a 1948 graduate of Hampton University.

Chase enrolled at UT in 1950 as a graduate student in architecture and graduated in 1952. An important modernist designer with his own practice and a rich architectural legacy in the state, his early designs included churches, schools, homes, and small public buildings. He collaborated on the design of Houston's George R. Brown Convention Center and designed several buildings on the campus of Texas Southern University. He was commissioned to design the U.S. Embassy in Tunisia.

A recipient of the Texas Exes' Distinguished Alumnus Award, Chase told The Alcalde magazine that he felt lucky to get paid for work that he loved. "The best part of the job," he said, "is to conceive of something, to watch it grow, and see people enjoying the building you've designed for them."
 
THE FUTURE SCHOOL OF ARCHITECTURE
The prospect of rehabilitating Battle Hall while refitting and expanding the West Mall Building puts in reach an opportunity to tie together the School of Architecture's four buildings — Goldsmith Hall, Sutton Hall, Battle Hall, and West Mall — into a unified complex, a campus within the main campus.

The school's architecturally significant buildings — Goldsmith, Sutton, and Battle — are the envy of American architecture schools, and the way faculty and students inhabit and learn from these spaces is fundamental to the program's preeminence. This is perhaps a once-in-a-century chance to create an interconnected and accessible complex around the courtyard between Goldsmith, Sutton, and West Mall that will enhance and strengthen the school and what it can offer its students.

The four buildings, with their individual histories and range of spaces, when united will create premier facilities that will support the world-class teaching and research capabilities of the School of Architecture. The construction work will also provide much-needed code compliance for life safety and accessibility. If it's done right, students 100 years from now will look at the architecture that integrates these buildings and feel that their interconnectedness had been planned from the beginning.

The Chase addition alone, which will fill a major void on a prominent pedestrian axis, is an interesting design challenge and an opportunity to make a bold architectural statement; it will undoubtedly attract some of the world's premier architects when the request for proposals is issued. The entire project, meanwhile, will be a case study that will inform the direction UT takes with stewardship and maintenance of other historic, architecturally important buildings in the years to come.

The early planning phases of the project have already served students in preservation, conservation, and sustainability classes. Moving forward, it is expected that parts of the project will serve as avenues for faculty and student research in materials conservation, interpretation of history and resource flows, and in green roof and other sustainability technologies.
BRINGING A CAMPUS ICON UP TO CODE
Fire & Life Safety — While it was built to be "fire-proof" with load-bearing masonry walls faced with limestone, Battle Hall's vast library and archival holdings are vulnerable to damage and destruction. The lack of modern safety systems also poses a significant threat to the safety of occupants and visitors.
Accessibility — As with all campus buildings, Battle should offer equal access regardless of a person's mobility issues. To be in compliance with the Americans with Disabilities Act, it is imperative that the building's fixtures, exits, and elevators be welcoming to everyone.
 
THE TIME IS NOW
The architectural and historical significance of Battle Hall and its prominent location in the heart of the campus warrant appropriate stewardship by the people of Texas. The university is undertaking the Battle Hall project now because it is the right thing to do, and the right time.

Join in the project and gain the satisfaction of making an important investment in UT and in Texas. You will be helping to leave a beautiful, tangible legacy that will endure for generations. And you will share in the esteem of your fellow supporters who recognize the importance of preserving this quintessential part of Texas history.
 
BUDGET AND TIMELINE
The total project cost is an estimated $70 million, half of which will be paid by university funds to cover health, fire, and safety renovations. The other half must come from UT and School of Architecture alumni and friends who wish to step up and help preserve and enhance this significant piece of Texan heritage. Depending on fundraising progress, work could begin in 2016, and faculty and students could fully occupy the refurbished facilities by 2019.
 
YOUR INVESTMENT IS KEY
The Battle Hall project is a major undertaking that calls for the support of the entire University of Texas community. No matter how big or how small, your tax-deductible gift will make a difference. Pledges can be paid over five years, and the university will be honored to recognize the generosity of individuals, foundations, and corporations by dedicating spaces in these buildings.

For more information about the project and how you can play a part in it, visit soa.utexas.edu/battle or contact Joe Youngblood in the University Development Office at 512.475.7085 or jbyoungblood@austin.utexas.edu.