Alumna Allison Brooks Gives Back
Reflecting on the impact of Professor Larry Doll and the school's multidisciplinary perspective on her career, the founder of B2 Architecture + Design gives back through a Texas Challenge scholarship.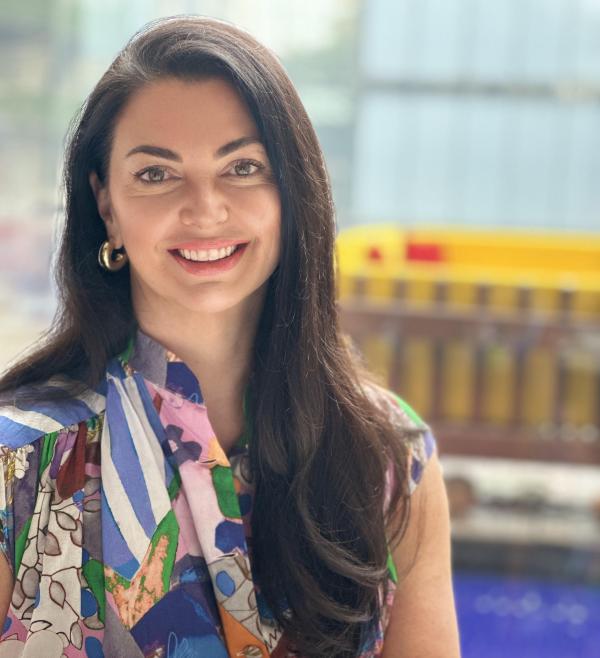 School of Architecture alumna and Advisory Council member Allison Brooks (B.Arch '00) has had a wide-ranging career that has taken her from working for architectural firms in Chicago and Dallas, through a stint in real estate development, to now owning her own architecturally-led interior design studio, B2 Architecture + Design.   
Brooks credits beloved School of Architecture professor Larry Doll as a pivotal mentor in how she views and experiences great architecture. During one of Doll's studio trips to Marfa, she experienced first-hand how architecture is more just than buildings: it's about the stories they hold, the emotions they elicit, and their unique interaction with surrounding spaces. Brooks spent her 21st birthday on this studio trip, back when the town offered little by way of nightlife or offerings. But disappointment in the lack of birthday festivities was quickly overshadowed by Doll's palpable love for Marfa. His admiration inspired a life-long lesson in Brooks to recognize that what isn't there is just as important as what is. 
After graduation, Brooks honed her skills in the Chicago area at Skidmore, Owings & Merrill and A. Epstein & Sons, and at Good, Fulton & Farrell Architects in Dallas. In 2007, she left the field to try her hand at real estate development, but then the 2008 recession hit, derailing any large commercial projects for years. Instead, Brooks began consulting on space planning for Crow Holdings' redevelopment of the old Parkland Hospital and did some interior design work for Trammell Crow Residential, launching her into her next chapter: Establishing B2 Architecture + Design. 
Since then, B2 Architecture + Design has honed its expertise in interior architecture. By limiting verticals and specializing in luxury commercial projects, including multifamily, hospitality, student housing, and senior living amenities, they've expanded far beyond Dallas to have a national footprint. With approximately 30 employees spread across two offices, one in Dallas and one in Chicago, B2 has created more than 70 unique spaces in eleven states across the country. 
"As an architecturally-led interior design firm, we have first-hand knowledge of what it takes to bring a project to life, both inside and out," Brooks said. "With this in-house expertise, our multidisciplinary team understands all aspects of the project so we can coordinate with the engineers, architects, and landscape architects to ensure a seamless flow between spaces and throughout the construction process."   
This multidisciplinary perspective is also part of the reason Brooks decided to create an endowed scholarship for future School of Architecture students. Through the Texas Challenge program, gifts of over $125,000 are matched dollar for dollar, doubling the impact a scholarship can make for high-potential School of Architecture students from low- to medium-income families in Texas. 
"My education from the University of Texas School of Architecture has proven invaluable in my career," Brooks said. "UTSOA's intention of multidisciplinary education allowed me to approach interior design from an architect-trained perspective and, because of this vantage point, we are able to see opportunities unique to each space beyond perceived limitations."
Thanks to the generous support of alumni and donors like Brooks, the UT School of Architecture can continue to inspire and equip the next generation of architects and interior designers with the tools they need to explore new design and personal frontiers.