Fall 2015 Lecture Series
Mark your calendars for the UTSOA Fall 2015 Lecture Series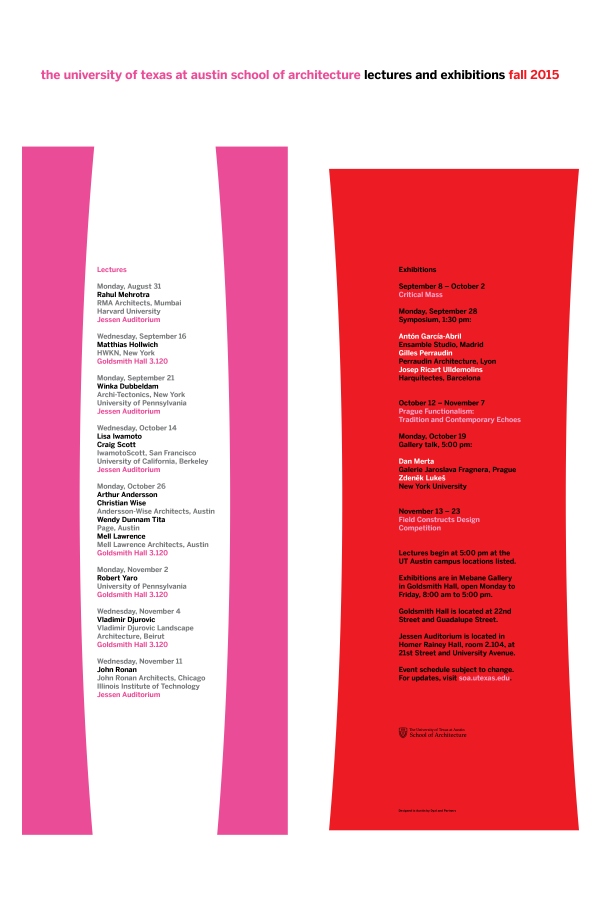 Lectures
All lectures begin at 5:00 pm unless otherwise noted. Please see the event details for location.
Monday, August 31
Rahul Mehrotra
RMA Architects, Mumbai
Harvard University
Jessen Auditorium
Wednesday, September 16
Matthias Hollwich
HWKN, New York
Goldsmith Hall 3.120
Monday, September 21
Winka Dubbeldam
Archi-Tectonics, New York
University of Pennsylvania
Jessen Auditorium
Wednesday, October 14
Lisa Iwamoto
Craig Scott
IwamotoScott, San Francisco
University of California, Berkeley
California College of the Arts
Jessen Auditorium
Monday, October 26
Arthur Andersson
Christian Wise
Andersson-Wise Architects, Austin
Wendy Dunnam Tita
Page, Austin
Mell Lawrence
Mell Lawrence Architects, Austin
Goldsmith Hall 3.120
Monday, November 2
Robert Yaro
University of Pennsylvania
Goldsmith Hall 3.120
Wednesday, November 4
Vladimir Djurovic
Vladimir Djurovic Landscape Architecture, Beirut
Goldsmith Hall 3.120
Wednesday, November 11
John Ronan
John Ronan Architects, Chicago
Illinois Institute of Technology
Jessen Auditorium 
Exhibitions
Exhibitions are in Mebane Gallery in Goldsmith Hall, open Monday to Friday, 8:00 am to 5:00 pm.
CRITICAL MASS
September 8 – October 2
Symposium: Monday, September 28 - 1:30 pm
Antón García-Abril
Ensamble Studio, Madrid
Gilles Perraudin
Perraudin Architecture, Lyon
Josep Ricart Ulldemolins
Harquitectes, Barcelona
Prague Functionalism: Tradition and Contemporary Echoes
October 12 – November 7
Gallery talk: Monday, October 19 - 5:00 pm
Please note that the gallery talk has been rescheduled for Monday, October 12 - 5:00 pm
Dan Merta
Galerie Jaroslava Fragnera, Prague
Zdeneˇk Lukeš
New York University
Field Constructs Design Competition
November 13 – 23
Opening reception: Friday, November 13, 2015 from 5:00 pm to 6:00 pm, with introductory remarks by the curators at 5:15 pm.