Fall 2021 Lecture Series
Some of the world's leading designers, thinkers, and practitioners will explore ideas of social connectivity and context, materiality and imagination, innovative technologies, and non-traditional approaches to design.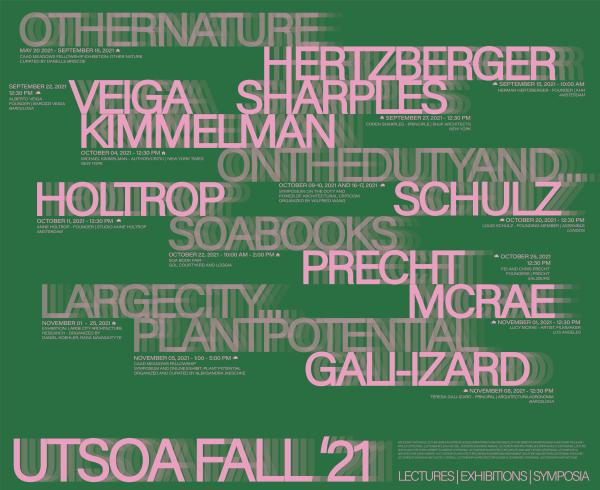 The University of Texas at Austin School of Architecture is proud to continue its commitment to maintaining a robust platform for interdisciplinary discourse with its fall 2021 lecture and event series. This semester's lineup represents an exciting range of emerging and established voices who will present diverse perspectives about the purpose and responsibility of design, the contemporary challenges we face, and the future of our fields.  
Starting Wednesday, September 15, and continuing throughout the semester, some of the world's leading designers, thinkers, and practitioners will present a series of talks exploring ideas of social connectivity and context, materiality and imagination, innovative technologies, non-traditional approaches to design, and beyond to help us explore and expand the boundaries of our disciplines and the richness of possibility.
Guest lecturers in the series include Herman Hertzberger, Alberto Veiga, Coren Sharples, Michael Kimmelman, Anne Holtrop, Louis Schulz, Chris Precht, Lucy McRae, and Teresa Gali-Izard. The lecture series is complemented by a symposium presented by the Center for American Architecture and Design's 2019-2021 Meadows Centennial Fellow Aleksandra Jaeschke titled "Plant Potential."
All lectures are free and open to the public and will be live-streamed on the Texas Architecture YouTube channel starting at 12:30 p.m. Central Time, except Herman Hertzberger, whose talk will begin at 10:00 a.m. on September 15th. Coren Sharples and Michael Kimmelman's lectures will also take place in person in Jessen Auditorium in Homer Rainey Hall located at 200 W 21st St, Austin, TX 78712. 
 
Wednesday, September 15 at 10:00 a.m.
"The Challenge for Architecture to Be More Socially Conscious and Concerned"
Herman Hertzberger—AHH, Amsterdam

Dutch architect Herman Hertzberger graduated in 1958 from what is now the Technical University of Delft and established his architectural practice in 1960. His most famous designs include the Centraal Beheer head office in Apeldoorn, the Vredenburg Music Centre in Utrecht, The Ministry of Social Affairs and Employment in The Hague, and the Chassé Theater in Breda. He is known for his many cultural buildings, schools, and residential buildings. In 2012, he was awarded the Royal Gold Medal from the Royal Institute of British Architects (RIBA). He also received the esteemed Thomas Jefferson Foundation Medal in Architecture in 2015, the ARC19 Oeuvre Award in 2019, and the Royal Scottish Academy Metzstein Discourse Medal for Architecture in 2021. His latest book Architecture and Structuralism attempts to formulate what structuralism means in architecture and why it matters, given a new impulse toward the discussion about sustainability and a blueprint for a more democratic architecture.
 
Wednesday, September 22 at 12:30 p.m.
"The Work of Barozzi Veiga"
Alberto Veiga—Barozzi Veiga, Barcelona

Alberto Veiga is a Spanish architect who studied architecture at the Escuela Técnica Superior de Arquitectura de Navarra. In 2004, together with Fabrizio Barozzi, he founded the office Barozzi Veiga. The practice has since worked internationally on public and private projects focusing on cultural, civic, and educational buildings. Currently, the office is completing two buildings for artist studios at the London Design District, while developing upcoming projects in Germany, Belgium, England, China, and the United States, including the future major makeover of the Art Institute of Chicago. Veiga has been a professor at the International University of Catalonia and a visiting professor at the Istituto Universitario di Architettura di Venezia, the Escuela de Arquitectura Universidad San Sebastian in Santiago de Chile, and La Salle Barcelona. He has taught and lectured worldwide at schools of architecture in Spain, Italy, Portugal, Switzerland, the Netherlands, the United Kingdom, Chile, and the United States.
 
Monday, September 27 at 12:30 p.m.
"Material Practice"
Coren Sharples—ShoP Architects, New York

Coren Sharples is a founding partner of SHoP Architects. She holds a Bachelor of Science from the business school at the University of Maryland, and a Master of Architecture from Columbia University. In addition to her work on the firm's ground-up projects, Coren also leads the interiors group at SHoP. Her approach considers design on a holistic scale, from planning and building to interiors and product design. This range is exemplified by work on such disparate projects as a new corporate headquarters for Atlassian in Sydney new building and renovation projects for the Fashion Institute of Technology, interiors for the Detroit Hudson's site, the Botswana Innovation Hub, and several US Embassies, as well as the planning, programming, and renovation of an existing office building for Company, a new hospitality-centered vertical tech campus in Manhattan. Coren has taught at Pratt Institute and Parsons School of Design, and served on her local Borough of Manhattan Community Board and the board of New York City's Center for Architecture.
 
Monday, October 4 at 12:30 p.m.
"Rewriting Architecture"
Michael Kimmelman—The New York Times, New York

Michael Kimmelman is the longtime architecture critic of The New York Times. He is a bestselling author, teaches at Columbia University's school of architecture, and is the founder and editor-at-large of Headway, a new nonprofit initiative at The Times that will address large-scale global and national challenges. As critic and advocate, Kimmelman's function is to translate architecture for a broad public and to argue for its central importance in public debates around the environment social justice, technology, and culture. In his lecture, he will talk about his own path toward writing about the built world, the public square, and the crucial role of design in shaping a better future.
 
*CANCELED* Monday, October 11 at 12:30 p.m.
"Site, Matter, Gesture"
Anne Holtrop—Studio Anne Holtrop, Amsterdam, Muharraq

Anne Holtrop started his practice in 2009. In 2015, the first two major buildings, Museum Fort Vechten and the National Pavilion of the Kingdom of Bahrain, were completed. Recently realized projects include the Customs House in Manama, operational as the main post office; and the Qaysariya Suq and Green Corner Building in Muharraq. The studio has completed new stores worldwide for Maison Margiela with flagship stores in London, Paris, Osaka, and Shanghai, and is currently working on the completion of Unesco-listed heritage buildings in Bahrain: Murad Boutique Hotel and Siyadi Pearl Museum. Holtrop is also an associate professor at the ETH in Zurich. In 2020, a new monograph, Site, Matter, Gesture, was published by El Croquis about the practice and its continuous research, the subject of this lecture.
 
Wednesday, October 20 at 12:30 p.m.
"House of Annetta: Facilitating Grassroots Action"
Louis Schulz—Assemble, London

Assemble is a multi-disciplinary collective working across architecture, design, and art. Founded in 2010 to undertake a single self-built project, Assemble has since delivered a diverse and award-winning body of work, while retaining a democratic and cooperative working method that enables built-, social-, and research-based work at a variety of scales, both making things and making things happen. When a derelict, early-eighteenth-century townhouse in Central London was given to an obscure Swiss charity, Assemble was invited to come up with an idea of what to do with it. The house had belonged to the artist, cyberneticist, beekeeper, campaigner, and polymath Annetta Pedretti, whose energetic spirit Assemble sought to maintain in the house, while creating a space for grassroots resistance to decades of top-down redevelopment projects. In this talk, Louis Schulz will discuss the ideas behind the project and the amazing woman that lived and died in the house.
Monday, October 25 at 12:30 p.m.
"Wandering & Wondering"
Chris Precht—Studio Precht, the mountains of Austria

Chris Precht is a father to his son Tio, a husband to his wife Fei, and an architect at Studio Precht in the mountains of Austria. Operating a studio in the mountains, far from the next city, can be challenging, especially setting it up as a young couple with big dreams but no clients. Now, four years and one pandemic later, Studio Precht can reflect on those dreams, challenges, failures, and benefits, and they can wonder what opportunities lie ahead for a new generation of architects. Studio Precht is a young office that takes pride in speaking up with a fresh voice. For this generation, architecture is not about styles, forms, -isms, or academic theories anymore; we have more urgent issues to solve.
Monday, November 1 at 12:30 p.m.
"Story As Future Survival"
Lucy McRae—Lucy McRae, Los Angeles

A pioneer blurring the boundaries across art, architecture, technology and design, British-born Australian Lucy McRae has a finely tuned ability to imagine other ways of being and, crucially, other possibilities for how human biology might be augmented by a mixture of physical design, modification of genes, and emotions. Examining the way science is transforming the body, McRae's prophetic aesthetic is flung far from archetypal tropes – creating nostalgia for a future about to happen – using art as a mechanism to signal and provoke our ideologies and ethics about who we are and where we are headed. McRae has worked with several global scientific and cultural organizations and institutions including MIT, Ars Electronica, NASA, TED, Cannes, and Tribeca Film Festival, with selected major artworks exhibited at Venice Architecture Biennale, Science Museum London, Centre Pompidou, and the Triennale Milano. McRae is a visiting professor at SCIArc in Los Angeles and is recognized as a Young Global Leader by the World Economic Forum.
Friday, November 5 from 1:00-5:00 p.m.
CAAD Meadows Fellowship Symposium: Plant Potential
Curated by Aleksandra Jaeschke, 2019–21 Meadows Foundation Centennial Fellow in Architecture

An online conference exploring the imaginary futures of the spaces of botany, featuring guests:
Sanford Kwinter, architectural theorist, professor at Pratt, New York
Mae-ling Lokko, architectural scientist, assistant professor at Rensselaer Polytechnic Institute, Troy, NY; founder of Willow Technologies, Accra, Ghana
Ron Finley, urban gardener, founder of the Ron Finley Project, Los Angeles, CA
Oliver Kellhammer, artist and socio-ecological researcher, assistant professor at Parsons, New York
Eduardo "Roth" Neira, artist, founder of Roth Architecture, and creator of Azulik eco-hotel and cultural center, Francisco Uh May, Quintana Roo, Mexico
Monday, November 8 at 12:30 p.m.
"CONNECTING DOTS: Circular Metabolism and Regenerative Practices for the Twenty-First Century"
Teresa Gali-Izard—Arquitectura Agronomia, Barcelona

Teresa Gali–Izard has more than thirty years of experience in the design and implementation of projects of landscape architecture. She defines the profession as a translation of the hidden potential of places. Through her research and teaching at the University of Virginia and the Harvard Graduate School of Design, she has developed a methodology that integrates living systems and natural processes into the design proposals. Her expertise is working with the limiting factors of the primary matter of climate and geology, transforming constraints into opportunities. She believes that transversal teamwork across disciplines is the only way to design intelligent solutions for the built environment. She is currently a Professor of Landscape Architecture, Chair of Being Alive, and Director of the Master of Sciences in Landscape Architecture at ETH in Switzerland.

Poster design by M.Arch student Ryan Fagrie