In Memoriam: Steven A. Moore, Ph.D.
Steven A. Moore, Bartlett Cocke Regents Professor Emeritus of Architecture, passed away peacefully on August 22, 2023, after suffering a stroke while visiting friends in New Hampshire.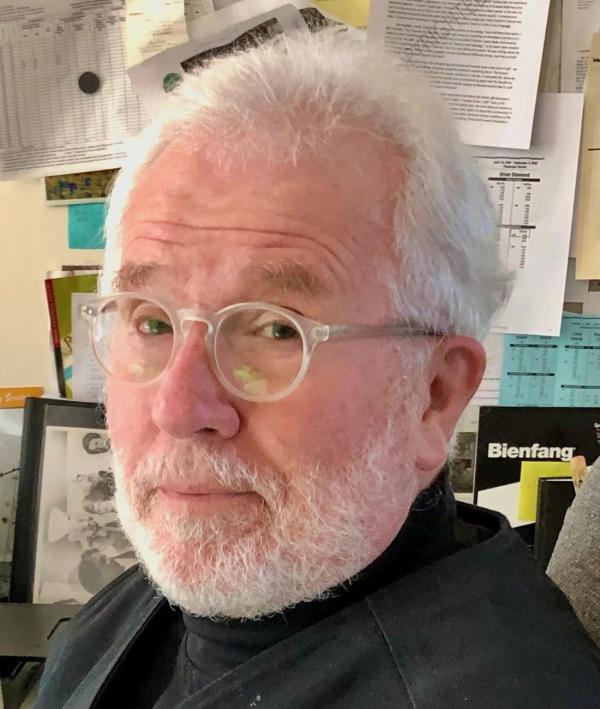 Steven A. Moore was born in Maine in 1945 and grew up in Greensburg, Pennsylvania. He studied architecture at Syracuse University, where he met his life and creative partner, Marjorie Moore. Steven and Marjorie spent 1967 to 1969 in the Kurdistan province of Iran as Peace Corp volunteers, where Steven worked as a planner. There, he learned many lessons about humanity and architectural sustainability—lessons that would stay with him throughout his life.
During the 1970s and 80s, Moore practiced architecture as the design principal of Moore/Weinrich Architects in Maine, and the firm became a regional leader in public sector architecture. In 1990, he was awarded a Loeb Fellowship at the Harvard Graduate School of Design, which forever altered his intellectual and personal trajectory. He then completed his Ph.D. at Texas A&M University in College Station in 1996 and began teaching at The University of Texas at Austin School of Architecture in 1997. 
As a faculty member, Moore taught design and interdisciplinary courses related to the philosophy and history of sustainable technology, and the ways that societies and the technologies they make coevolve. In 1999, he was appointed director of the Design with Climate Program, which he revised and renamed Sustainable Design in 2002 to better reflect the program's interconnectedness of environment, economy, and social equity. Three years later he established the Graduate Portfolio Program in Sustainability with support from the Henry Luce Foundation. As Professor Michael Garrison notes in his essay about the Sustainable Design Program in Traces & Trajectories published in 2010: "Through his courses and scholarship, [Steven] enriched the theoretical dimension of the program by situating sustainable design within broad discourses in philosophy, science and technology studies, and cultural geography." 
In 2001, Moore co-founded the Center for Sustainable Development with Kent Butler, Michael Garrison, and Robert Paterson to develop creative, balanced, achievable solutions to the physical and social challenges facing the planning, construction, and preservation of buildings, neighborhoods, and regions. Through the CSD, Moore co-created the Alley Flat Initiative in 2005 and was a founding board member of the Austin Community Design and Development Center which became Community Powered Workshop.
In 2017, Moore retired from the School of Architecture as the Bartlett Cocke Regents Professor Emeritus of Architecture. During his time at the school, Moore's interdisciplinary teaching and leadership created a generation of sustainability-minded leaders in allied professions across architecture. Following his retirement, he focused on full-time research and activism in Maine. He is the author of many articles, over 25 book chapters, and seven books on sustainable architecture, urbanism, and theory. 
Moore is survived by Marjorie Moore, his wife of 57 years; his son Ian, daughter-in-law Nova Blazej, and granddaughters Makenna and Kaitlin of Berkeley, California; daughter Jenny Moore, and grandchildren Alex and Andrea Canizaro of San Antonio Texas; and brother Scott in Central City, Pennsylvania, as well as many beloved nieces and nephews. 
A memorial will be held in Maine at a later date to celebrate Steven's life.