Spring 2015 Lecture Series
Join us for a semester-long series of public events.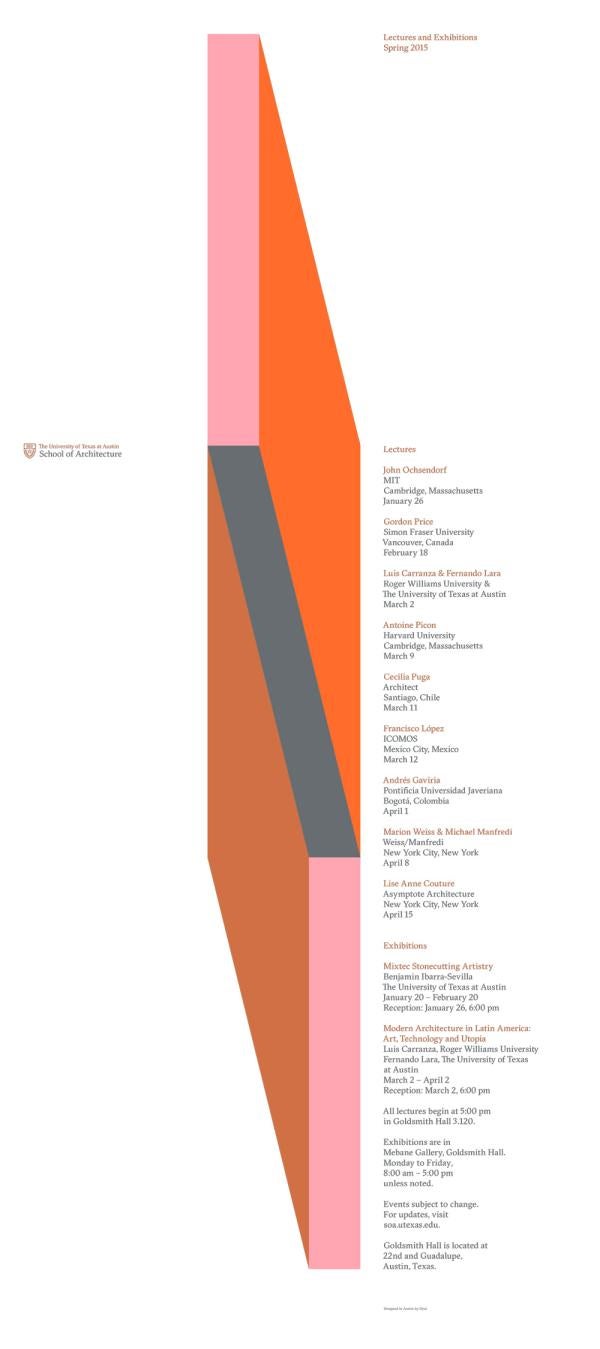 Lectures
All lectures begin at 5:00 pm in Goldsmith Hall 3.120.
John Ochsendorf
MIT
Cambridge, Massachusetts
January 26
Gordon Price
Simon Fraser University
Vancouver, Canada
February 18
Luis Carranza & Fernando Lara
Roger Williams University and
The University of Texas at Austin
March 2
Antoine Picon
Harvard University
Cambridge, Massachusetts
POSTPONED
Cecilia Puga
Architect
Santiago, Chile
March 11
Francisco López
ICOMOS
Mexico City, Mexico
March 12
Will be held in the Dean's Conference Room (GOL 2.302B)
Andrés Gaviria
Pontificia Universidad Javeriana
Bogotá, Colombia
April 1
Marion Weiss & Michael Manfredi
Weiss/Manfredi
New York City, New York
April 8
Lise Anne Couture
Asymptote Architecture
New York City, New York
April 15
 
Exhibitions
Exhibitions are in Mebane Gallery, Goldsmith Hall, Monday to Friday, 8:00 am – 5:00 pm, unless noted.
Mixtec Stonecutting Artistry
Benjamin Ibarra-Sevilla
The University of Texas at Austin
January 20 – February 20
Reception: January 26, 6:00 pm
Modern Architecture in Latin America: Art, Technology and Utopia
Luis Carranza, Roger Williams University
Fernando Lara, The University of Texas at Austin
March 2 – April 2
Reception: March 2, 6:00 pm