"For Whites" Exhibition on Display through April 14
Organized by Assistant Professor Tara Dudley, the exhibition places the "For Whites" signage discovered in Battle Hall within the complex, yet previously unexplored, history of Black craftsmen and laborer's contributions to The University of Texas at Austin's built environment.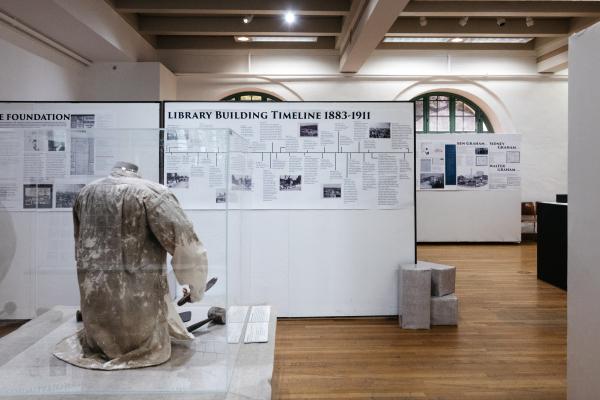 During renovations to The University of Texas at Austin's Battle Hall, a member of the design team discovered a handwritten sign that reads "For Whites" on a previously hidden interior wall—a vestige of segregation at the building's construction site, estimated to be written in 1910 or 1911. Upon discovering the writing, a team of scholars, including UTSOA's own Assistant Professor Tara A. Dudley, began investigating its origins and intent and devising a plan for its contextualization and preservation.
As part of that work, Dr. Dudley has curated an exhibition, "For Whites": Contextualizing Race and Architecture at The University of Texas at Austin, that is currently on display in the Mebane Gallery in Goldsmith Hall through Friday, April 14. The research will also form the base of an archive to be housed at UT's Briscoe Center for American History that documents the period and the writing.
Featuring a series of multimedia displays that guide visitors through the gallery, Dudley's exhibition places the "For Whites" signage within the complex, yet previously unexplored, history of Black craftsmen and laborers' contributions to the development of The University of Texas at Austin's built environment.
"Following the preliminary research, it became clear that the signage should not and could not be ignored," said Dudley in an essay written for the 2022—23 issue of Platform. "I led a task force to develop goals to contextualize and preserve the signage and its historic context. The three-part action plan to meet these goals recommended steps to document and research, preserve and archive, and to teach."
The research and teaching components of the Battle Hall signage action plan proceeded under Dudley's direction, as it ties directly to her research focus and efforts to teach about and identify the contributions made to the U.S. built environment by African American men and women. And, in Dudley's words, "that scholarship is all the more valuable when incorporated into curriculum and student-centered efforts."
Just as the Battle Hall signage was discovered, graduate students in Dudley's summer 2021 African American Experiences in Architecture course had already started researching the contributions of African Americans to the university's built environment as an extension of Dudley's research on Black builders in Austin. (You can watch Dudley's Fall 2020 lecture on the topic "Sites of Black Agency at the Margins of the Forty Acres" on the School of Architecture's YouTube channel.) Dudley's student's research projects have also laid the groundwork for the ongoing reinterpretation of the Slave Quarters at the Neill-Cochran House Museum, located minutes away from campus, which has been presented as an exhibition and publication, Reckoning with the Past: Slavery, Segregation, and Gentrification in Austin.
For the "For Whites" exhibit, graduate research assistants under Dudley's supervision—Vasken Markarian (Ph.D. '22), Samantha Panger (MLA '23), and Tolu Oliyde (Ph.D. candidate)—conducted research at the Briscoe Center, Austin History Center, Texas State Library and Archives, as well as in various online newspaper and genealogical databases. And several students in Dudley's Fall 2022 African American Experiences course—Jessica Felicelli (M Arch '23), Noah Heerdink (M Arch '23), Narsis Holmes (M Arch '23), and Ryan Kunu (B Arch '26)—co-designed the exhibition with Dr. Dudley and contributed materials for the project as well.
"As a student of black descent, I've always been keenly aware of the fact that I could not inhabit many of the environments I take up space in without the work and sacrifice of those who came before me," said Heerdink. "I working on this exhibit, I hope to honor the lives of the Precursors as well as the black workers at the university that go unnamed to this day. I also believe that it is important to acknowledge the history of segregation at UT in order to continue our goal of fostering a university that affirms its diverse community."
The exhibition will be on display in the Mebane Gallery Mondays-Friday  8:00 a.m.-4:30 p.m. through Friday, April 14. On Monday, April 3 at 5:30 p.m., Dudley and her student contributors will lead a gallery talk in the space that is free and open to the public.
EXHIBITION >>
GALLERY TALK, APRIL 3 >>