New and Visiting Faculty Join UTSOA
Meet new and visiting faculty joining the school this fall including Patrick Danahy, Dora Epstein Jones, and Liang Wang, as well as long-time lecturer Martin Haettasch, now a tenure-track Assistant Professor.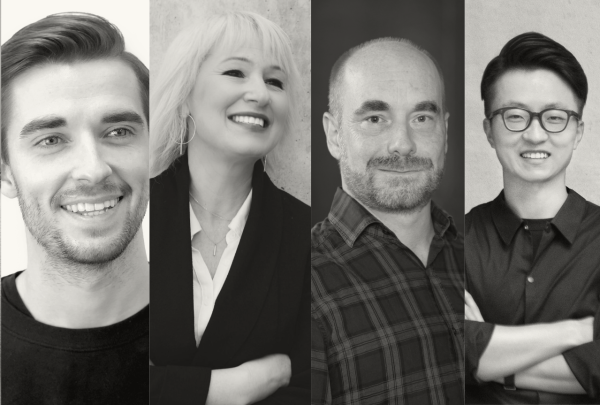 The School of Architecture is pleased to welcome new and visiting faculty, as well as visiting fellows for the 2023-2024 academic year. Each of these scholars and practitioners brings with them a wealth of knowledge and expertise that will diversify and enhance our academic research, leadership, and curriculum. We are so excited about the conversations and work they will bring to the school. Stay tuned for more in-depth Q&As with each of them throughout the fall 2023 term. 
Patrick Danahy, 2023-2025 Emerging Scholar in Design
Patrick Danahy's work focuses on computation and robotics, integrating architectural reference with emerging machine-learning technologies. He holds a Bachelor of Arts in Architecture from Clemson University, and a Master of Architecture from the University of Pennsylvania. Before joining The University of Texas at Austin School of Architecture as our 2023-2025 Emerging Scholar in Design, Danahy served as the Design Innovation Fellow at Ball State University. Danahy has taught numerous workshops on emerging media and digital technologies including at the 2022 ACADIA conference, the UCL Bartlett RC20 Skills-Share program, the University of Kentucky, and the University of Pennsylvania.
Dora Epstein Jones, Professor of Practice
Dora Epstein Jones, Ph.D., is a theorist and teacher of architectural culture, interrogating the discipline's boundaries and operations through examinations of tectonics, practice, and pedagogy, as well as (generally external) concerns such as gender, sex, mobility, and criticality. Epstein Jones holds a Ph.D. in Architectural History, Theory and Criticism from UCLA; an M.A. in Urban Planning from UCLA; and a B.S. in Applied Behavioral Sciences (Community Studies) from UC Davis. She has served as a principal with Jones, Partners: Architecture with Wes Jones, the Coordinator of both General Studies and History & Theory at SCI-Arc, the Executive Director of the A+D Architecture and Design Museum, and the Chair of Architecture at Texas Tech University. 
Martin Haettasch, Assistant Professor
Martin Haettasch is a German architect whose design and research focuses on the intersection of architecture and urbanism, questions of housing, monumentality, and their numerous overlaps. He has lectured at the School of Architecture since 2015, and now joins our tenure-track faculty as an Assistant Professor. His studio, "A Home is Not a House," focusing on the question of medium-density housing was awarded the 2018 Architect Magazine Studio Prize, and he is the recipient of the 2022 ACSA/AIA Housing Design Education Award. A registered architect in the Netherlands, he holds a Dipl.-Ing. Arch. Degree from the Technische Universität Braunschweig and an M.Arch from Princeton University where he studied as a DAAD (German Academic Exchange Service) fellow. 
Liang Wang, Assistant Professor + Graduate Advisor for Urban Design
Liang Wang is an architect, urban designer, and educator. Prior to joining UT Austin, Liang taught at the Harvard University Graduate School of Design and Syracuse University School of Architecture. His scholarship and teaching concern the history and theory of urban form and design, space and politics of the superblock, architecture, and urbanism in East Asia, as well as urban housing and collective living. Liang is also the co-founder of Commons Office—a research-minded design practice embracing a trans-scalar and trans-disciplinary approach to architecture and urbanism. Liang received his Doctor of Design degree from Harvard University. Previously, he completed his Master of Architecture in Urban Design degree with distinction from the GSD. He also holds a Master of Architecture degree from Rice University.