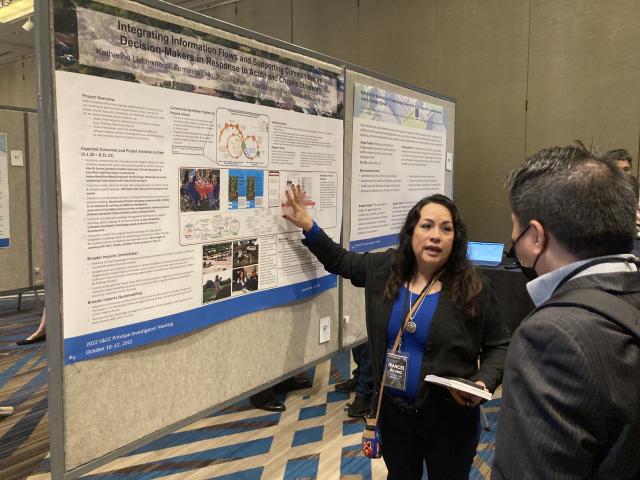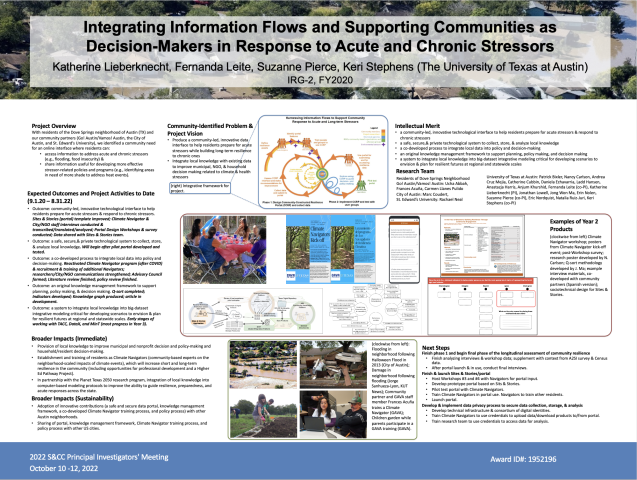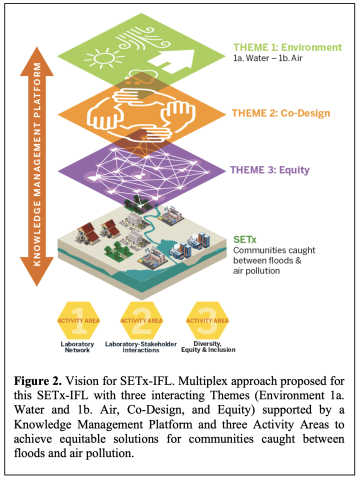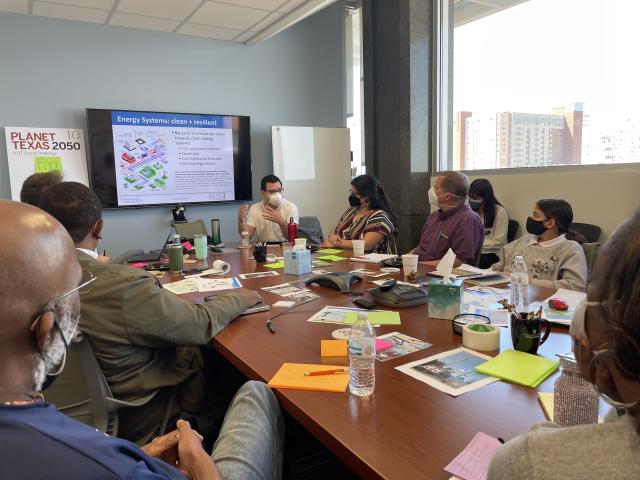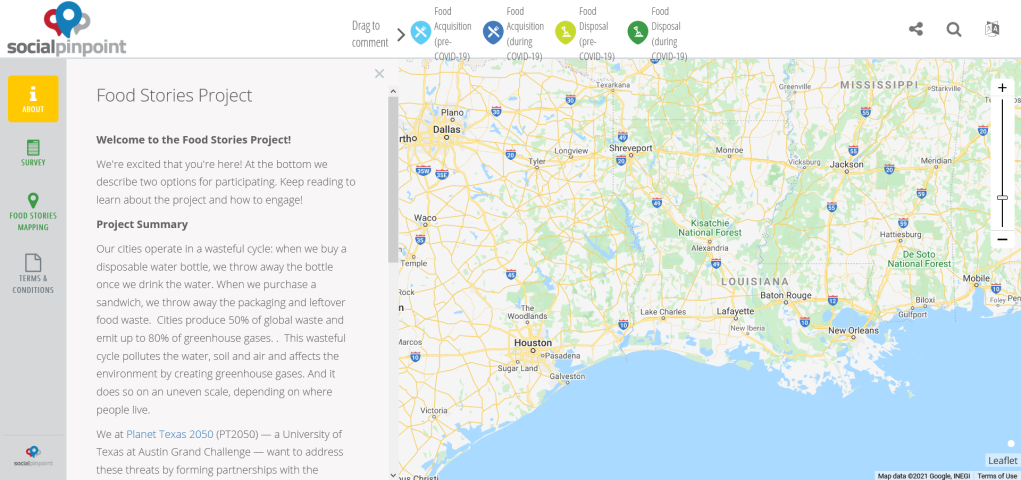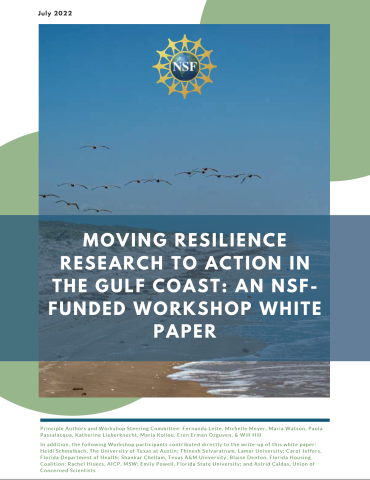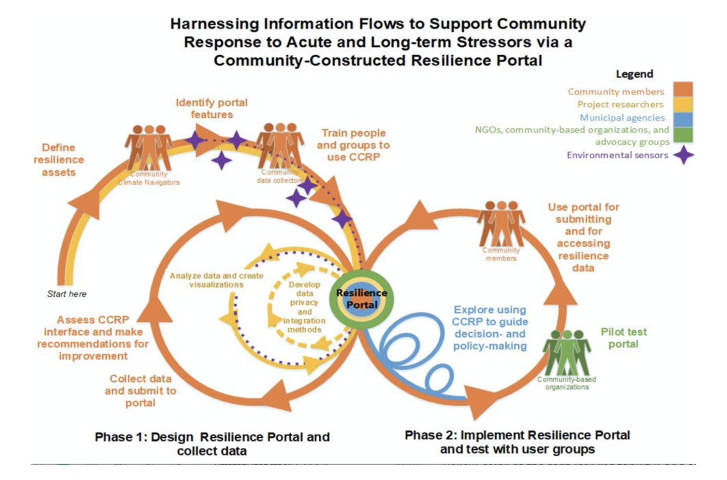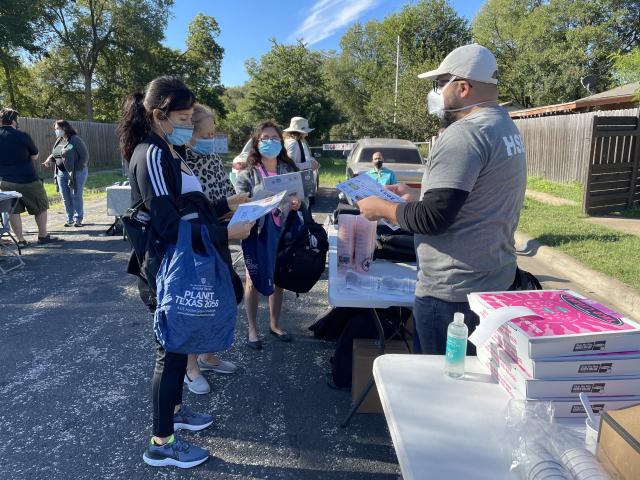 Katherine Lieberknecht is an assistant professor in the Community and Regional Planning program at the School of Architecture at The University of Texas at Austin. She researches environmental planning centered around equity, with specific focus areas on climate planning, green infrastructure planning, and water resources planning. Dr. Lieberknecht teaches courses on sustainable land use planning, water resources planning, and urban ecology. Prior to joining the faculty, she worked in regional land conservation. She received her Bachelor of Science in Biology from the College of William and Mary, a Master in Environmental Management from Yale University, and a Ph.D. in City and Regional Planning from Cornell University.
Dr. Lieberknecht was the inaugural chair of Planet Texas 2050, The University of Texas at Austin's first grand challenge research program and continues to serve on its leadership team. She is the faculty lead for the Texas Metro Observatory, a Planet Texas 2050 research project and co-lead for the Planet Texas 2050 Flagship Project Equitable and Regenerative Cities in a Post-Carbon Future. She serves as principal investigator for a National Science Foundation Smart and Connected Communities project focused on community-led climate adaptation and located in Dove Springs, Austin, Texas. Other current projects include contributing to a UT Austin-EcoRise collaboration and a green jobs study for the City of Austin, as well as serving as a co-PI for the 2021 CHCI Global Humanities Institute on Climate Justice and Problems of Scale. She is a 2020-2022 UT Austin Humanities Institute Fellow, and she received UT Austin's School of Architecture's Outstanding Service Award in 2018-2019 and UT Austin's School of Architecture's Outstanding Teacher (Lecture) in 2020-2021.
EDUCATION
B.S., Biology: College of William and Mary
Master of Environmnetal Management: Yale University
Ph.D., City and Regional Planning: Cornell University
rECENT PUBLICATIONS
Lieberknecht, K. (2023). Leading with Local Knowledge: Climate Adaptation, Local Knowledge, and Participation in Austin, Texas' Network of Plans and the Co-Designed Climate Navigators' Tool and Process. Journal of Planning Education and Research, 0739456X221144610. 
Lieberknecht, K. and E. Mueller. (2023). Planning for Equitable Climate Retreat: Gaps in Knowledge and a Proposal for Future Directions. Journal of Planning Literature.  
Lieberknecht, K., H. Houser, A. Rabinowitz, F. Leite, L. Rodriguez, S. Pierce, J. Nelson Gray & Lowell, J. (2022). Creating Meeting Grounds for Transdisciplinary Grand Challenge Research. Interdisciplinary Science Reviews.  
A. Belaire, C. Higgins, D. Zoll, K. Lieberknecht, R. P. Bixler, J. L. Neff, T. H. Keitt, S. Jha. (2022). Fine-scale monitoring and mapping of biodiversity and ecosystem services reveals multiple synergies and few tradeoffs in urban green space management. Science of The Total Environment, 849, 157801. 
Lieberknecht, K. (2022). Smart Cities and Water Infrastructure. Oxford Encyclopedia of Water Resources Management and Policy. Oxford Research Encyclopedia of Environmental Science. (24 pages).  
Lieberknecht, K. (2021). "Community-centered climate planning: Using Local Knowledge and Communication Frames to Catalyze Climate Planning in Texas," Journal of American Planning Association. 1-16.

Lieberknecht, K., Zoll, D., Jiao, J., & Castles, K. (2021). Hurricane Harvey: equal opportunity storm or disparate disaster?. Local Environment, 26(2), 216-238.

Eisenman, T. S., Flanders, T., Harper, R. W., Hauer, R. J., & Lieberknecht, K. (2021).  Traits of a bloom in urban greening: a nationwide survey of US urban tree planting initiatives (TPIs). Urban Forestry & Urban Greening.
Bixler, R. P., Lieberknecht, K., Atshan, S., Zutz, C. P., Richter, S. M., & Belaire, J. A. (2020). Reframing urban governance for resilience implementation: The role of network closure and other insights from a network approach. Cities, 103, 102726. https://doi.org/10.1016/j.cities.2020.102726

Lieberknecht, K., R. P. Bixler, M. Oden, L. Hall, Thomas, J. Y. Song, A. Zilveti, J. Brown, J. Felkner, F. Leite, S. Richter, S. Wu. (2019). People, Land, Water: Stories of Metropolitan Growth. Texas Metro Observatory. The University of Texas at Austin Office of the Vice President of Research. https://tmo.utexas.edu/library

Lieberknecht, K. (2019) Ian McHarg and Planet Texas 2050:
Integrating Socio-Ecological Systems into Survey and Inventory. Socio-Ecological Practice Research (1: 283). https://doi.org/10.1007/s42532-019-00025-3

Bixler, R. P., Lieberknecht, K., Leite, F., Felkner, J., Oden, M., Richter, S. M., ... & Thomas, R. (2019) An Observatory Framework for Metropolitan Change: Understanding Urban Social–Ecological–Technical Systems in Texas and Beyond. Sustainability, 11(13), 3611.

Lieberknecht, K. (2019) Water and EcoWisdom, in EcoWise: Theory and Practice, Bo Yang and Robert Young, editors. London: Springer Nature. 10.1007/978-981-13-0571-9_7

Lieberknecht, K. (2019) Fencelines and Observatories: Two Texas Communities Navigating Change in Platform. Elizabeth Mueller, Katherine Lieberknecht, and Alex Karner, editors. Austin, Texas: The University of Texas School of Architecture.

Karner, A., Lieberknecht, K., and E. Mueller, editors. (2019). PLATFORM. The University of Texas at Austin School of Architecture. Spring 2019. https://issuu.com/utsoa/docs/2018_utsoa_platform_magazine_single

Young, R. F., & Lieberknecht, K. (2018) From smart cities to wise cities: ecological wisdom as a basis for sustainable urban development. Journal of Environmental Planning and Management, 1-18. Young, R. F., & Lieberknecht, K. (2018). From smart cities to wise cities: ecological wisdom as a basis for sustainable urban development. Journal of Environmental Planning and Management, 1-18.

Young, R., M. Oden, K. Lieberknecht, B. Muller, R. Balder, S. Richter, and T. Osdoba.  (2017) The Santa Cruz Project: Internal development report to the municipality of Santa Cruz, Madeira Island. https://soa.utexas.edu/publications/santa-cruz-project-internal-develop…