Dean's Introduction
In her introduction to the 2023-2024 issue of Platform, "Civics and Placemaking," Dean Heather Woofter considers design, placemaking, and civic life from a relational perspective, where the integrity of many disciplines come together to imagine an accessible and vibrant public sphere.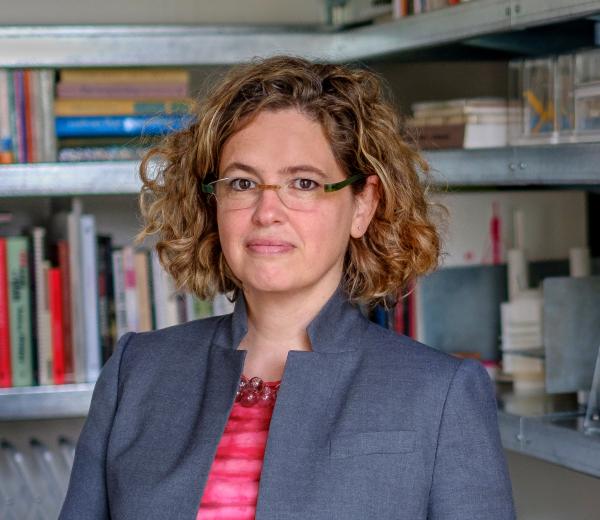 Our fields rely on collaboration and exchange. Buildings cannot stand on their own; instead, they are part of a more extensive system and landscape, framed by conditions of history and culture, impacting community well-being and our environment. As designers, we are taught to solve problems and innovate solutions through additions and cuts to existing infrastructure. But as Dennis Crompton of Archigram might say: What can we first achieve without building? How might we frame very real and complicated concerns to ask questions of the future? 
I am honored to join The University of Texas at Austin and the faculty, staff, students, and alumni of the School of Architecture. I aspire to actively participate in Austin and its dynamic communities, just as many UT faculty engage with and contribute to the city. This summer, I moved here from Washington University and St. Louis, a place I've called home for twenty years. St. Louis is a beautiful and complicated place—but until recently, a shrinking city. Yet, at one point, it was the fourth largest city in the US with rapid growth as a manufacturing center. 
No place is static; environmental and economic forces contribute as firmly to the health and physicality of a place as the everyday buildings in our communities. Change is incremental, almost invisible, as we are more likely to see the pieces directly impacting us instead of the complicated tapestry that connects us all. Landscape architects in particular accept that no design is static by the nature of the profession. As Maggie Hansen relates in her essay "In Support of Transgressive Practices," time is as material to proposals as seemingly stable ground, where social and ecological relationships shift and evolve. 
While I am still new to Austin, I hope to use my 'antenna' to see the city through the momentarily heightened lens of a traveler, to observe firsthand the things that work well and those that do not, and to gradually learn—through conversations such as the ones presented in the following pages—how Austin's civic life and collective actions endure and bring us closer to a shared and actionable vision for the broader community. This issue of Platform is dedicated to "Civics and Placemaking" and examines the myriad ways that our spaces and places shape the public life of citizens of our community, which, in turn, contribute to regional and national affairs and a sense of global interconnectedness. 
The School of Architecture is unique for many reasons, but key among these is the breadth of allied disciplines housed here, spanning all scales of the built environment—from the room to the region. As an educational institution, our school can bring design professionals, planners, and research scholars together around thematic and collaborative topics. As Michael Holleran observes in his essay "Water in Cities," "My work encompasses not just the great systems that make and shape cities but the expressions of water in landscape and culture. These subjects, I realized, could form a course that crosses every discipline in the School of Architecture—something I am surprised is not more common." 
I consider collective intelligence among the irreplaceable resources that academic institutions bring to cities. Because design is connected to complexity—systems, contexts, cultures, and histories—the integrity of many disciplines come together, with placemaking solutions arising from their collaboration and from the specificity of the surroundings. Larry Speck demonstrates this in his essay, "Architecture is a Team Sport," noting: "We need to be honest about how incredibly complex and demanding the design of a significant project is, and how many different capabilities and perspectives are required in the creation of a sophisticated work of architecture or urban design." Civic life requires a relational perspective, where 'building' includes tending to existing spaces, performances (like pop-up events) that anticipate and test future community-based projects, and forums that encourage difficult conversations to bring together citizens, local government, developers, planners, and designers to imagine an accessible and vibrant public sphere. 
The essays within provide numerous examples of how this work takes place. Michael Holleran and Juana Salcedo consider public space through the lens of water and the territory of the jaguar—essays that uncover the ways we make space for and through nature. Michael Oden, Miriam Solis, and Maggie Hansen discuss approaches to policy and practice that are more just, equitable, and environmentally sensitive. Benjamin Ibarra-Sevilla and Larry Speck describe a partnership with the National Park Service, and the multi-faceted teams behind the creation of the State of Texas's new Capitol Mall, demonstrating the importance of collaboration in placemaking. (These two projects additionally demonstrate the compatibility of historic preservation with placemaking projects, and how the school's alumni go on to contribute to placemaking through a range of different professions.) 
The essays conclude with an excerpt from Coleman Coker's recent book on his Gulf Coast DesignLab, reflecting on how designers and educators can make meaningful change toward more just and sustainable places and communities. Whereas Speck's piece highlights the importance of teamwork to placemaking, Coker considers the motivations that lead individuals to communal action. The issue also features two public art installations by our faculty that enrich our experience and understanding of the public spaces and networks in which we live. (Like Holleran's and Salcedo's essays, Nerea Feliz's installation reminds us of how we hold space for nature amid urbanization.) Finally, the issue spotlights alumni who are shaping civic life through their careers, the donor (and School of Architecture alum) behind a transformative new scholarship, and the faculty exhibitions hosted at the school during the past year. 
The School of Architecture has a considerable track record of projects and activities engaging civic space. This issue of Platform captures a trace of their intention to link a range of academic pursuits to the public good.