Professional Residency Program: Expected Objectives and Some Unexpected Outcomes
Associate Professor Nichole Wiedemann considers the school's nearly fifty-year-old Professional Residency Program. This article originally appeared in the 2022-2023 edition of Platform, "Teaching for Next."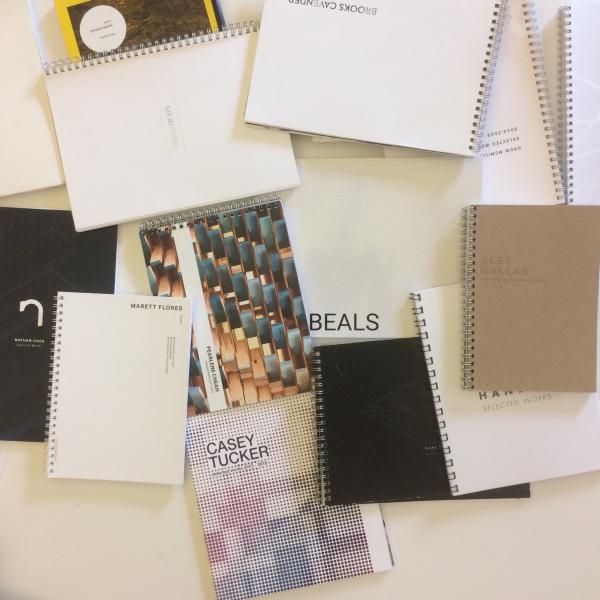 The Professional Residency Program (PRP) has emerged as one of the assets of the School of Architecture that sets us apart from architecture programs across the country. For almost fifty years, the program has provided an opportunity to students in the Master of Architecture and Bachelor of Architecture Programs to expand their education by incorporating "work" experience into their degree plans, with the primary objectives including (1) instilling knowledge that is typically hard to disseminate, or replicate, within the academic environment including the development of professional skills, (2) broader engagement of the practice of architecture including allied disciplines and experts, (3) expansion of design vocabulary into practical applications, and (4) strengthening the student's professional profile upon graduation.
Over the years, increased student interest has led to the growth of the program to a yearly average of forty to fifty-five supported by a team of two to four faculty members and a graduate student. By last count, more than one thousand students have been linked with more than three hundred different firms in over twenty-two states and thirty countries. Over time, the Professional Residency Program, and school, has forged lasting relationships with inspiring firms around the world that continue to benefit the next generation of students, whether seeking a residency, summer internship, or employment following graduation. Since the introduction of the "Most Hired from Architecture Schools" category in the DesignIntelligence School Rankings Survey, our school has been at the top of the list. The rankings stem from this question posed to practitioners: "From which schools have you hired the greatest number of undergraduate/graduate students in the last five years?" In 2019–2020, we were number one in comparison to schools of similar size.
This past spring, students returned to campus from firms in Berlin, New York, Portland, Los Angeles, Washington DC, Dallas, San Antonio, Paris, Rotterdam, Copenhagen, within Austin, and beyond with enthusiasm for the new technical abilities, tacit knowledge and exciting experiences acquired during their six-month internship. We document the many insights and achievements gained during the residency through exit interviews, PRP Now!, reflection essays, and PRP Pecha Kucha.
John Katada (B.Arch '22), whose first professional experience was acquired during residency, says: "One of the things that surprised me most about my internship at Marmol Radziner was that they entrusted me with much more responsibility within the first month than I thought I would have by the end of my six months there. I said "Yes, I can do that!" before I had the technical knowledge to confidently make that statement. But I learned quicker than I've ever learned in school because of those mistakes, the firm's lack of judgement towards them, and my willingness to make them. Over the six months of my internship, I gained an immeasurable amount of confidence in my technical abilities, but more importantly, I gained confidence in my ability to learn anything I may need to learn to be a better employee and a better designer."
Andrew Brandt (M.Arch '22), with a B.S. in Mathematics and minor in Physics, remarks: "I had no idea what to expect from Denmark, Copenhagen, or the firm ADEPT going into this experience—I was flying blind into a new country and design culture and hardly had any real architectural office experience to rely on. Returning to the states, I feel like I am a more balanced, thoughtful, and intuitive designer, a more effective communicator, and a better colleague." 
While each student has a unique experience, which varies based on firm, people, project, and place, the spirit of the reflections from this year rings true to those over the past decades. Ultimately, these successes embody what we strive for, if not expect, with a longstanding internship program such as the Professional Residency Program. Even so, there are unexpected possibilities that move beyond the intended objectives and hoped-for experiences that are not understood until much, much later. To get a better sense of these unforeseen outcomes, I contacted School of Architecture alumni (and previous PRP-ers) who are well into their careers and asked them a few questions.
Haley Fitzpatrick (M.Arch '17), PhD candidate, The Oslo School of Architecture and Design, Oslo, Norway, and Ostana, Italy
Ilse Frank (B.Arch '02), Owner, Co-founder, and Principal in Charge, Studio Balcones, Austin, Texas
Brittany Hunt (M.Arch '13), Owner and Partner, Hunt Architecture, Austin, Texas
Philip Keil (B.Arch '94), Principal Architect and Owner, Furman + Keil Architects, Austin, Texas
Ariel Padilla (B.Arch '16), Digital Design Lead, Lucas Museum of Narrative Art, Los Angeles
---
Do you think residency contributed to your education?
Brittany Hunt (M.Arch '13), Owner and Partner, Hunt Architecture, Austin, Texas: PRP was one of the reasons I chose to attend UT and was one of the corner stones of my education. When I returned from PRP at Tod Williams Billie Tsien Architects in New York in 2012, I felt like I had a much broader understanding of architecture and how conceptual ideas turn into real buildings.
Haley Fitzpatrick (M.Arch '17), PhD candidate, The Oslo School of Architecture and Design, Oslo, Norway, and Ostana, Italy: The semester before PRP, I took the comprehensive "Tech Comm" studio and it was very rewarding to apply this technical knowledge during my time at Renzo Piano Building Workshop. I certainly had a more insightful lens towards my last studio project upon my return in 2017—influencing both the way I approached the project brief as well as the representation methods used. Likewise, working internationally expanded my way of thinking about design, how the architecture industry needs to change, and the responsibilities we have in shaping a better world. 
Ilse Frank (B.Arch '02), Owner, Co-founder, and Principal in Charge, Studio Balcones, Austin, Texas: My residency was hugely influential and did change me upon my return. It was a time of immense change globally—while I was at West 8 in 2001, 9/11 happened and that was impactful. I was one of two students from UT in Rotterdam at that time. Our school was also in a process of change: a new dean, with a different educational background—similar to the one I was moving toward pursuing, in planning and landscape architecture.
Philip Keil (B.Arch '94), Principal Architect and Owner, Furman + Keil Architects, Austin, Texas: The residency with Perkins&Will in 1993 probably did a better job preparing me for the "working world" better than any other semester in school, and offered valuable insight into the differences between working and schooling. 
Ariel Padilla (B.Arch '16), Digital Design Lead, Lucas Museum of Narrative Art, Los Angeles: PRP gave me the opportunity to venture out of a very controlled academic environment and interact with the professional world at a young age. This encouragement to be independent was a critical first step in seeing how my skills from school could be applied to the real world. Seeing UTSOA students be placed in some of the most prestigious and influential firms in the US and the world was extremely inspiring; it really proved that we were as well prepared as any and that our dreams were only limited by our own desires. –
How did the Professional Residency Program contribute to your career?
IF: I learned a great deal in my PRP experience about urban design and the elements of a city that contribute to a better urban fabric, but it also came with a lot of difficult learning about gender bias. But that was more than twenty years ago and the world has changed a lot since then.
HF: PRP was a critical "sliding door" moment in my life. After I came back from PRP and graduated from UT, I returned to RPBW in Genova, Italy, and worked full time for the next three-and-a-half years. Residency has completely shaped both my professional and personal life experiences in ways I don't think I could have predicted. This experience contributed so much to the tacit and embodied knowledge I have today about design, architecture, and approaching complex challenges through a holistic, iterative approach. 
BH: My career would not be what it is today without my PRP experience. After graduation, I was hired full-time by the same firm (TWBTA) and stayed with them for six-and-a-half years. In addition to learning about architecture, I learned about how to run a well-organized, profitable company that values their employees. 
PK: My residency with Perkins&Will was my first "real" engagement with a project team in an architecture office. The seven-month timeframe allowed me to be a fully participating project team member with real responsibilities (not just a "helper") in taking a project from design through construction documents. This cemented my desire to become an architect, and gave me a significant leg up when searching for a full-time position after graduation, which was a big deal at the time since we graduated into a recession. 
AP: After graduation, I applied to three jobs and was offered a position in all of them. Maybe half of that was luck but the other half was definitely PRP experience.
Do you think you would be where you are today without residency?
BH: Many of the design principles practiced at TWBTA have found their way into the way we think about space, materials, light, views, users, and landscape at Hunt Architecture. My husband and partner at Hunt Architecture also worked for TWBTA (which is also where we met) so our collective experience there shaped the way we built our own practice. 
HF: Being a part of the "mare e monti" landscape of Liguria taught me what regenerative living can be like through deep, continuous relationships to place. The RPBW studio itself is a living experiment of this idea. From testing daylighting models in the studio garden to my personal weekend explorations, I experienced firsthand how a complex social-ecological system functions and how important it is to understand this when making both individual and collective decisions. Over the years, I also found myself embodying this way of life, as a kind of adopted Genovese. This specific way of being results in a strong identity for Liguria, yet at the same time it also raises important questions about diversity, how "tradition" evolves over time, and what that looks like for co-creating more livable, inclusive, and equitable futures. I realized I wanted to keep exploring these topics further, so I decided to change course and pursue a PhD in systems-oriented design at The Oslo School of Architecture and Design.
PK: Probably so, it just might have taken longer... 
AP: While I was introduced to digital modeling at UT, the real expansion of that happened with Alvin Huang of Synthesis Design + Architecture in 2015. The studio was small and conducted a lot of research into the digital tools that probably wouldn't have been possible in a school setting or traditional architecture office. In addition to extreme exposure to parametric modeling and new workflows, I learned how people like Alvin paved their own paths in an industry sometimes reluctant to change. Since then I've worked at an array of places in various industries—SHoP, Tesla, Adidas, LMNA, and the art sector. PRP really set me up for that. 
IF: My residency definitely helped. To be able to list West 8 as a previous employer opened certain doors to me (including two subsequent degrees in landscape architecture and city planning)… My residency also exposed complexities of being a young woman pursuing dreams with few female leaders in the realm I was seeking. Today I am embracing my role as a leader, as I co-founded our company thirteen years ago. 
---
Spanning five to thirty years since graduation, these five alumni describe an inflection in their trajectories from The University of Texas at Austin School of Architecture and beyond. The option to participate in the Professional Residency Program is timed so that it is bookended by the student's academic studies, so that the risk of trying something "different," whether an international location or unique firm type, is softened. As a result, students enter residency more open to possibilities and, for some, the six-month experience transforms their future, both professionally and personally, in ways that might not have been imaginable.
Sometimes the residency can be an unexpected shift, or detour, that opens new paths that may not have been considered up to that point, or even possible. As Ilse Frank sums up our role, almost impossible to define yet of immense consequence, "If you could pursue all of your dreams, and yet not know what they might be, how could the Professional Residency Program best be there to help you and support you, during such a time, in fulfilling those dreams?"
The quotes that appear in this essay have been edited for length and clarity.
NICHOLE WIEDEMANN >>
PLATFORM: TEACHING FOR NEXT >>