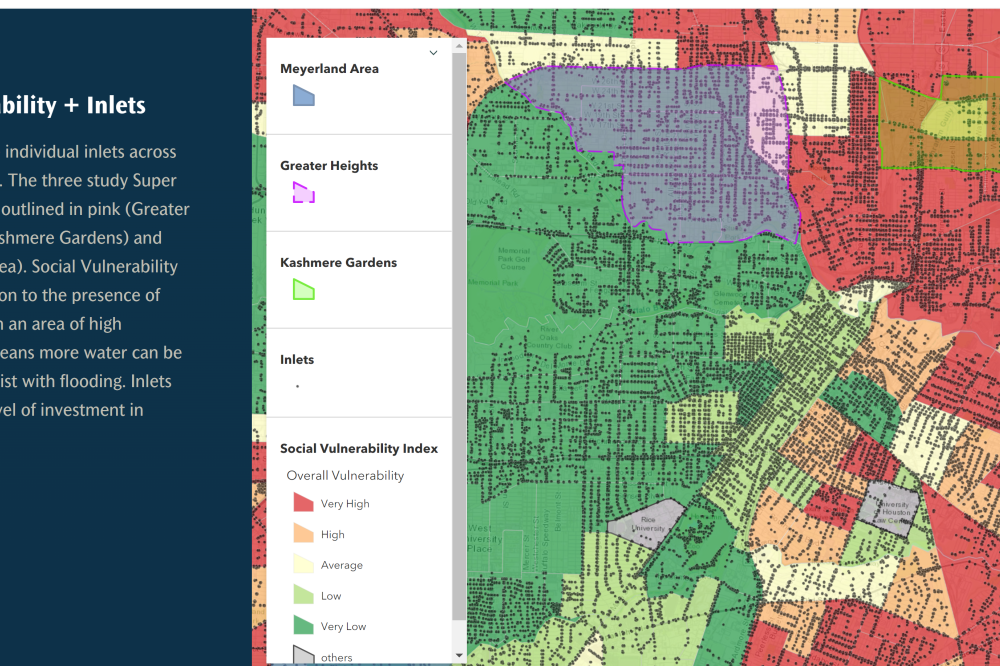 Research conducted by graduate students in Associate Professor Elizabeth Mueller's Spring 2021 "Equitable Disaster Recovery" practicum has received the 2021 statewide award for best student project from the Texas Chapter of the American Planning Association. The award-winning project "Drowning in Disinvestment" outlines inequities in stormwater infrastructure within the Houston city limits, and in the allocation of federal disaster recovery funding following the devastation of Hurricane Harvey in 2017.
 
Working in collaboration with Texas Housers, an advocacy organization focused on critical housing and community development issues around the state, student teams produced three projects that each tackle a different facet of Houston's stormwater infrastructure and recovery efforts. The research will support Texas Housers' work in advocating for a more equitable and transparent distribution of disaster relief funding and stormwater infrastructure improvements in communities across the city.
             
 'The University of Texas practicum collected and analyzed large data sets to assess the fairness and racial equity of a billion-dollar federal program of flood control," said John Henneberger, co-director of the nonprofit Texas Housers. "The students asked and answered the critical question government planners had ignored, 'Does the program treat the residents of Houston's lowest-income neighborhoods equitably?' The research reports have been turned over to federal officials who have opened a civil rights investigation."
 
The semester-long research project was divided into three research projects:
"Transparency and Accountability in the Use of Disaster Recovery Funds" which looks at how projects put forward for disaster recovery funding through the Community Development Block Grant (CDBG) Disaster Recovery (-DR) and Mitigation (-MIT) programs are identified and how equity is considered in these processes;
"Citywide Stormwater Infrastructure Inequities in Houston, Texas" which uses data received from Houston Public Works to compare the capacity and quality of stormwater infrastructure in three Houston Super Neighborhoods—Greater Heights, Kashmere Gardens, and Meyerland—and visualized via an online Storymap; and
"Stormwater Infrastructure in Kashmere Gardens, Houston, Texas," which considers the city's proposal to the Texas General Land Office for upgrading Kashmere Gardens' historically inadequate infrastructure. 
To motivate their research, students collaborated with stakeholders at Texas Housers, conducted interviews with local officials, met with experts in the field of hydrology and flood management, reviewed primary and secondary source material, and analyzed data from the City of Houston to identify disparities. Taken together, the research shows a clear correlation and spatial relationship between lower standards of drainage infrastructure, social vulnerability, and minority populations.
 
"The students' work put a spotlight on the need to consider existing stormwater infrastructure inequities when making decisions regarding infrastructure improvements following disasters," Mueller said. "This issue will only become more important in the coming years. I hope their work will help cities and agencies charged with allocating federal resources see how they can assess infrastructure needs while taking into account these historically embedded inequities."
 
This is the fourth consecutive year that students from the UT School of Architecture's Community & Regional Planning program have been recognized by the APA Texas Planning Awards Program. Given each year, the Texas Planning Awards recognize individuals, organizations, and communities for outstanding contributions to planning in Texas. A key part of the program's curriculum, planning practicums like Mueller's "Equitable Disaster Recovery" offer students the opportunity to apply the skills they've learned at the university to real-world planning problems, often in partnership with a client. One of the students in Mueller's course now works for Texas Housers and supports the organization's implementation and use of the classes' research findings.
 
Students involved with the research include Team 1: Abbey Judd, Sidney Beaty, Jessica Jones, and Patrick Bauer; Team 2: Tatum Trout, Sean Conway, Anita Machiavello, Cameron Christie, and Luisa Milani; and Team 3: Tressa Olsen, Mitch Ford, Nafisa Iskandar, and Todd Podbielski.
 
For more information about the research, including more key findings, visit Associate Professor Elizabeth Mueller's Housing Research Lab website.
 
 
Pictured: This map shows the individual inlets across the City of Houston. The three study Super Neighborhoods are outlined in pink (Greater Heights), green (Kashmere Gardens), and blue (Meyerland Area). Social Vulnerability is assessed in addition to the presence of inlets. More inlets in an area of high impervious cover means more water can be drained away to assist with flooding. Inlets are also a sign of the level of investment in infrastructure.