EMPLOYMENT REPORTS
With nationally ranked programs and a vision that combines intellectual curiosity and ambition with professional practice, it is no wonder that graduates of the University of Texas at Austin School of Architecture are in high demand. In fact, 91% of the graduating class in 2019 who pursued employment reported finding a job in the months after graduation; 2% opted to pursue graduate studies.
The employment reports listed below compile the job placement of UT Austin School of Architecture alumni six months after graduation. Each report organizes jobs by degree and includes employer name, position title, and location for each graduate while maintaining individual confidentiality. Firms or organizations that employ multiple graduates from the same program are identified by an asterisk. A salary breakdown is included for programs where adequate data was received. 
2021 GRADUATE EMPLOYMENT
2020 GRADUATE EMPLOYMENT
2019 GRADUATE EMPLOYMENT
2018 GRADUATE EMPLOYMENT
2017 GRADUATE EMPLOYMENT
2016 GRADUATE EMPLOYMENT
2015 GRADUATE EMPLOYMENT
2012-2014 GRADUATE EMPLOYMENT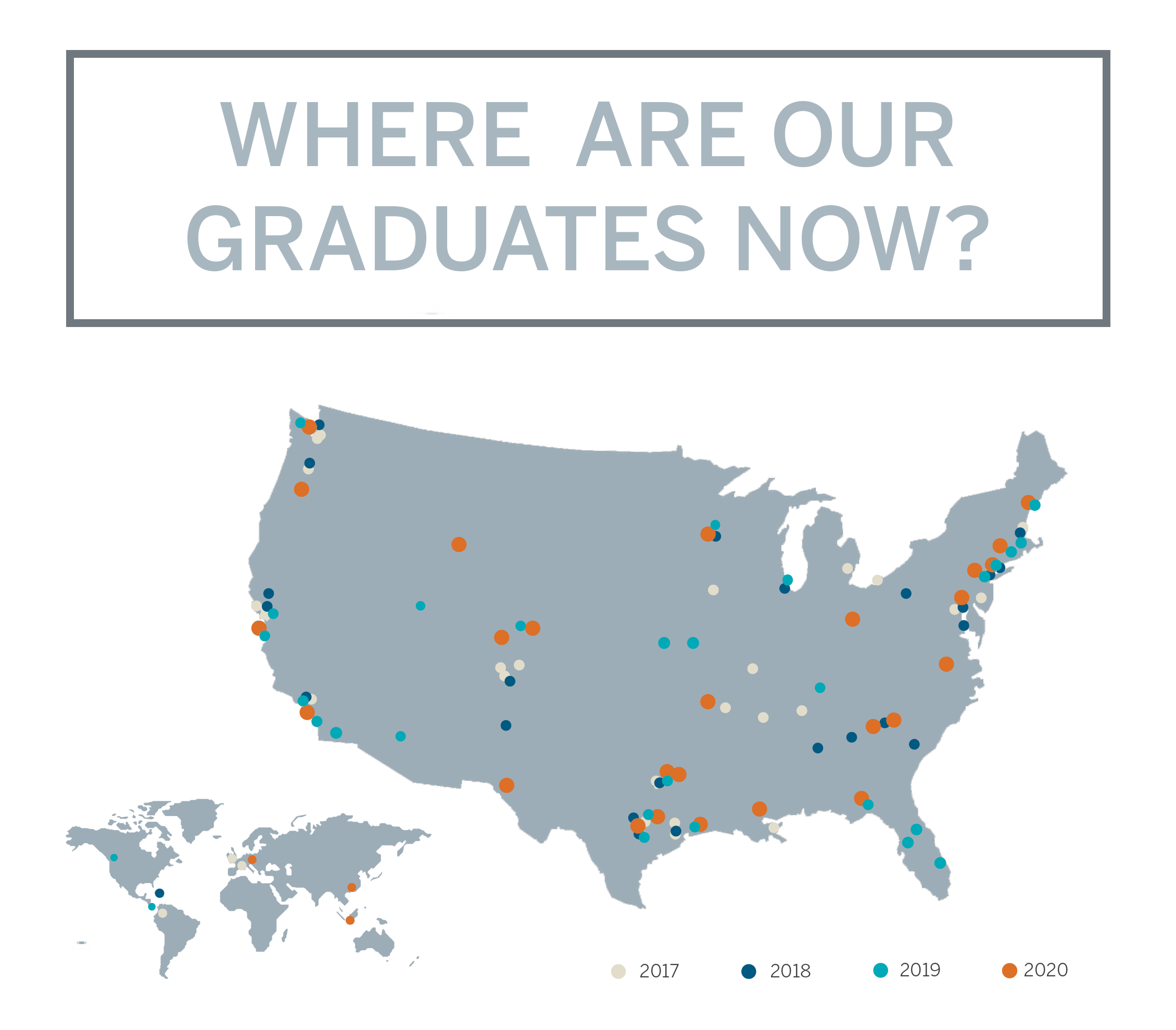 PROFESSIONAL RESIDENCY
The Professional Residency Program [PRP] offers upper-level architecture students a unique opportunity to expand their education through work experience in the architectural profession. PRP has provided internship opportunities to honors students in the School since 1974 and, over the past 25 years, our students have been linked with 300 firms in 30 countries.
2021-2022 PARTICIPATING FIRMS:  
Adept Architects (Copenhagen), Allied Works Architecture, Architecture Research Office [ARO], Architecture Studio (Paris), Behnisch Architekten (Munich), Bercy Chen Studio, Bjarke Ingels Group [BIG] (Copenhagen), Deborah Berke Partners, Dick Clark + Associates, Diller Scofidio + Renfro, Duda Paine Architects, Ennead, Forge Craft Architecture, Gentler (Austin), Guerin Glass, Hacker Architects, JaJa Architects (Copenhagen), KieranTimberlake, KoKo Architecture and Design, KPF (NY), Lake | Flato (San Antonio), LA-N-D [Lemmo Architecture and Design], Leroy Street Studio Architecture, Mahlum Architects (Seattle), Marmol Radziner, Maryann Thompson Architects, Michael Hsu Office of Architecture, MVRDV (Rotterdam), nArchitects, Olson Kundig Architects, Overland Partners, Page (Austin), Peterson Rich Office, ShoP Architects, Skylab Architecture, Smith Holt Architecture, Snøhetta (NY), Specht Architects, Steven Holl Architects, STG Design, Studio Modh, Tsao McKown Architects, Weiss Manfredi Architects, and Work AC