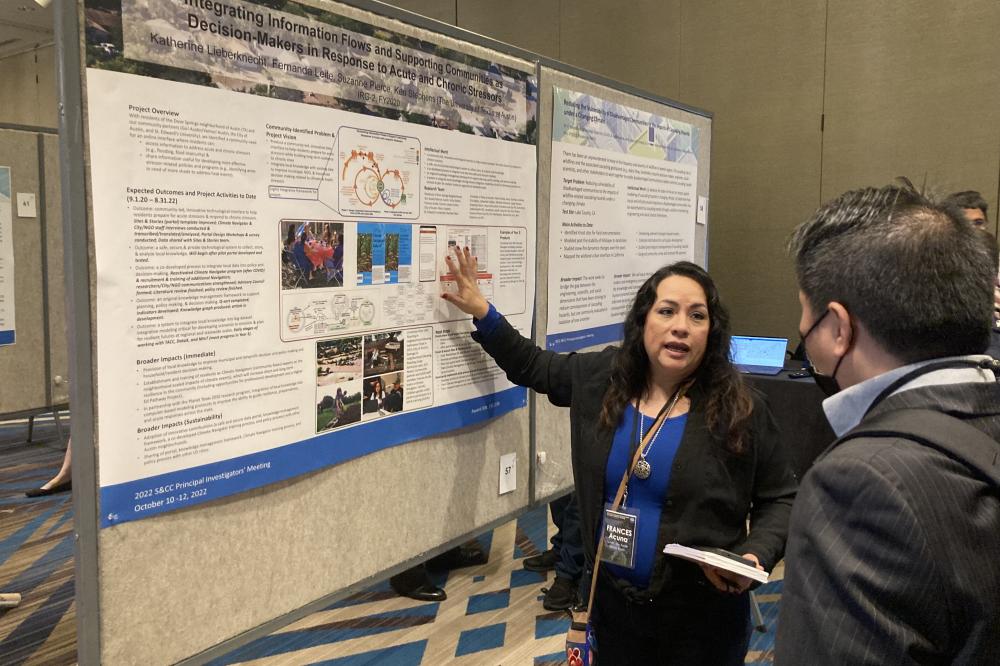 RESEARCH QUESTION(S)
(1) How can we use technology to help communities prepare for extreme weather events while improving long-term quality of life?
(2) What indicators of community resilience— specifically those that capture collective aspects of resilience, incorporate structural and systemic aspects of conditions that lead to risk, and are measured in terms of climate/preparedness response— can we co-create?
(3) How can we collect and integrate multiple data types (e.g., images, text, survey responses about lived experiences) and multiple scales (e.g., household, neighborhood, metropolitan, regional) to create actionable outputs for preparedness, while ensuring data privacy and security?
PROJECT SUMMARY
After experiencing a series of severe floods, residents of the Dove Springs neighborhood (Austin, Texas) and Go Austin! Vamos Austin! (GAVA) began thinking about the need for one place online, like a website, where residents can find the information they need to prepare for and respond to events like floods, heat events, and winter storms. They also wanted the website to be a place where residents can share their experiences and knowledge with the City of Austin and other groups working on disaster preparedness. For instance, a resident could use the website to tell the city that there is a storm drain that is backed up and causing flooding, or if there is a big tree that fell down during a storm that is blocking traffic. Or, during a severe winter storm, a resident could use this website to locate water and food.
A group of staff from GAVA, staff from the City, and UT faculty worked together to find funds through a grant from the National Science Foundation (1952196) that will pay for us to work together to create this website over a three-year time period. Beginning in 2020 and extending through 2023, a team of Dove Springs' residents, GAVA staff, and University of Texas at Austin faculty and students are creating an online data portal where residents can find and share information about disaster preparedness, help during these events, and assistance with recovery after these events. The design of this website centers around the expertise of the Climate Navigators, a group of Dove Springs residents who have undergone disaster preparedness training led by Frances Acuna of GAVA. The Climate Navigators are now informing the development of this project through a series of interviews, workshops, conversations, and surveys.
PRINCIPAL INVESTIGATOR, CO-INVESTIGATORS, AND PROJECT STAFF
Katherine Lieberknecht (PI)
Fernanda Leite
Suzanne Pierce
Keri Stephens
FUNDER
National Science Foundation
PROJECT TIMELINE 
Original ending date: August 2023, anticipated revised ending of August 2024 (pending)
MORE INFORMATION
Planet Texas 2050 Blog Post