Platform "Teaching for Next" Considers Pedagogy in the Context of Unprecedented Change
Essays reveal the myriad ways we teach and think about teaching, and how these contribute to larger conversations about teaching today and in the future.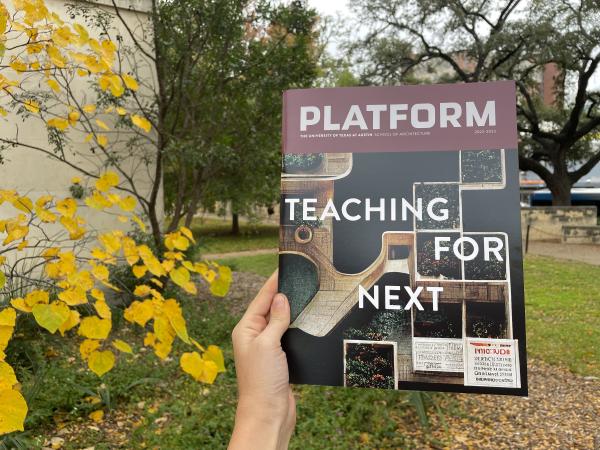 From elementary schools to institutions of higher education, educators have the critical role of preparing students for their futures in an increasingly complex and ever-changing world. At The University of Texas at Austin School of Architecture, this includes giving students the theoretical foundations and the practical tools they need to shape the future of the built environment amid a sea of technological, environmental, and cultural changes and uncertainty.
Edited by Professor Elizabeth Danze, the 2022–2023 issue of Platform, "Teaching for Next," explores how the school sets students up for success in a world that is different than we might have imagined even only a few years ago. Featuring a collection of essays and interviews with faculty, students, and alumni, this year's issue reveals the myriad ways we teach and think about teaching—and how these contribute to a larger conversation about teaching today and into the future.
"In putting this issue together, we considered several key questions related to pedagogy at the school, including what is enduring, how technological innovations have affected how and what we teach, how ideas that are developed here can shape our profession, and how we, as educators, can move the discipline forward," Danze said. "Together, I think this issue reveals the deeply humanistic ways in which we work and teach here at the school, and how, overall, our goal is to create a better world for one another."
Essays within "Teaching for Next" examine pedagogy at the school through several lenses: the range of methods, the hoped-for impacts, and their relevance for an unpredictable future. Contributors draw upon their individual pedagogical approaches and influences, including recent scholarship, teaching, and research methods; use of technology; reconsiderations of history and its social and cultural impacts; as well as critical practice. Contributions include:  
"Moving forward, schools of architecture must radically rethink our pedagogy so that we design for the world that is and could be, not for an idealized version of the past," said Michelle Addington, Dean of the School of Architecture. "This issue of Platform is an incredible snapshot of how our school has been wrestling with pushing beyond our former boundaries and into territory with unending possibility. Never before have we faced such extraordinary opportunities."